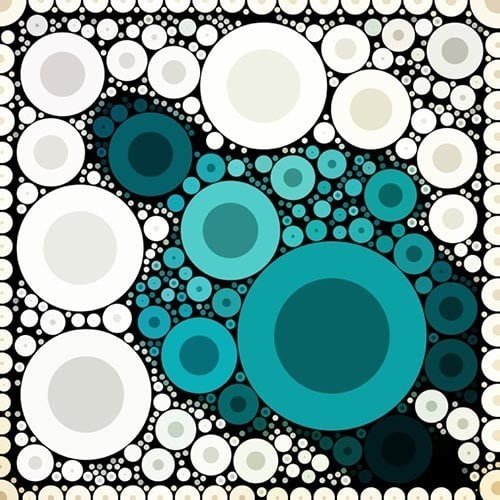 Percolator
Version 1.0
Price: $0.99
Bottom Line: Easy to use, Percolator is a fun, modernist app that produces unique colorful effects.
—
Many excellent iPhone photo apps simulate the look of retro and vintage analog photography. Percolator is a new photo app from Tinrocket that takes a different direction and makes your iPhone photos look like a mosaic comprised of circles. It's a very Modernist app like colorShadow, PhotoTropedelic, and Chromocam Dots — producing an image that could only be easily created by a computer (or very meticulously hand-drawn). I doubt modernist apps like Percolator will change the direction of iPhoneography, but it's a very pleasant diversion.
Percolator creates mosaics of circles from the camera or from your iPhone's photo library. The results are colorful and unique to anything else in the App Store. Among the things I love about this app are the simplicity of the app itself and the beautiful geometry and simplicity of the effects.
From the developer's website, "The main algorithm used in Percolator was developed in 2004, as a small piece of a larger project. This algorithm places circles in the empty areas of images, from the largest possible circle down to the smallest. The software computes a fast solution to a problem area known as circle packing."
The result is a colorful mosaic comprised of circles — and when created from a good source image, they are excellent examples of circlism.
Percolator is easy to use. I got the best results from images with high light or color contrast. There are few settings to adjust. No sliding adjustments — Percolator doesn't really need them, in my opinion. Default settings often yielded best results for me.
Percolator renders fairly quickly. Colors seem enhanced — bright and vibrant once percolated.
Currently, maximum output size is a usable 1600 pixels, but this should be increased to a maximum of 2000 pixels in the next update.
Other improvements in the next update should include a new retro-looking, coffee-themed interface, faster previews, more circle detail and two new settings.
Not every image is processed through Percolator looks good, but when you find that magic mix of color and contrast, Percolator creates a unique, impressive, modern effect. Combining percolated images in other photo apps can also create really interesting and eye catching photos.
Percolator is an excellent and fun diversion from the large number of vintage and toy camera apps in the App Store. It's a unique, well-done modernist app with a fun retro wink.
=M=
~~~~