.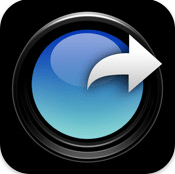 Best Camera is one of the classic iPhoneography apps. It's the app created with photographer Chase Jarvis, who popularized the iPhoneographer's mantra "The best camera is the one that's with you. The app finally got an update recently. It gets a few new features and compatibility for new iDevices, including the iPhone 4 and iPod Touch, but the new 1.3 version is really more a compatibility update than one really blows you away with new, must-have features.
Best Camera now supports full resolution on any iPhone, including 2592 pixels from an iPhone 4. The previous version only saved out to 2048 pixels. It now supports iOS4, including multitasking, but Best Camera has always been pretty fast, though, and it was configurable to always save the current state of the image.
The dock is now customizable, so you can remove any filters you never use. There are no new filters per se, but there are now a ton of 50% filters, that is applying one of those only applies half of the effect of the filter. These are not added to the dock by default and need to be added manually by customizing the dock. It's not a bad feature for the app as there have been times when 100% Jewel may be too much, for instance. There are no other filter adjustments, such as sliders for precise effects control.
Best Camera has been a staple in many an iPhoneographer's camera bag since its initial release, however in recent months its appeal has been overshadowed by other cool apps with wow features and filters, including any number of apps such as PictureShow, Hipstamatic and SwankoLab. This update does little to address and leapfrog the new apps and filters that have been released since.
In its day, Best Camera was a must-have app. It helped to define iPhoneography as an artform. It's still useful. Check out Chase Jarvis' Twitter stream to see what this app is still capable of. He still uses the app and posts some great iPhoneography created with it.
It's showing its age, however, and this update does little more than let it run better on the newer devices. It's still a good app, but for $2.99 there are now much better ones.
You can use it as a camera or load images from your device's photo library. Best Camera can be used on any iPhone, iPad, or iPod Touch running iPhone OS 3.1.3 or newer.
=M=
~~~~