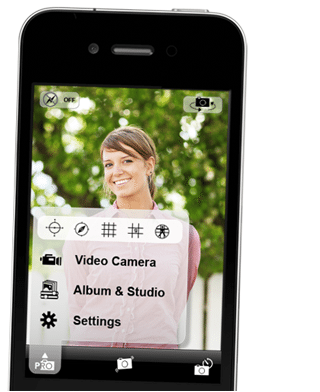 UPDATE 07.23.12: As the iPhone camera and apps improve, so have the requirements of camera replacements. Rather than keep updating and patching this post, I've written a new, updated follow-up. You can read the latest version of "Things to look for in an iPhone camera replacement app" here.
Apple's Camera app is fast and easy to use. The latest version of Camera has an excellent zoom and HDR in addition to the geo-tagging it's had for a while. With the improvements in the iOS 4 camera, there are fewer and fewer compelling reasons to purchase and use a camera replacement app. By camera replacement app, I don't mean a camera app that applies specialized filters. I mean a camera app with additional, specialized tools and features that give you greater options than the stock Camera when capturing your photos.
A good camera replacement app should build on Apple's Camera's foundations and offer more advanced tools to the iPhoneographer. A camera replacement app has to do a good job with the over-and-above features in order to get me to use it instead of Apple's Camera. Here are the features that I look for in a camera replacement app.
For me, a camera replacement app needs to do these things well:
1. I like good composition grid lines, preferably rule of thirds. Many of the more usable camera replacements are offering other user selectable composition grids, such as a pro grid, making the viewfinder work more like a DSLR or point-and-shoot. It's a good option.
2. There needs to be good anti-shake image stabilization for my often caffeinated hands. Basically, the camera waits until your hands are steady enough before releasing the shutter. Some camera replacement apps let you adjust the levels of shake. Regardless, the level of anti-shake needs to be high enough to help make your images sharper and less blurry, but not set so high that you miss your shot while the camera stabilizes.
3. It absolutely needs a fast recovery or shot-to-shot time — less than a second before the camera is ready to take another shot. This is one area where Apple's camera has always excelled. I like to take multiple safety shots and having a quick turnaround time makes that a lot easier. Before Apple opened up the camera APIs in the latest operating systems, some camera apps took between 3-7 seconds before they were ready to shoot again. Some camera replacements still do, which is really unthinkable now and lazy development. By that time, your shot is gone.
4. A good, full-resolution digital zoom — something more than just an in-app crop. I like a camera replacement app with a good digital zoom that resamples images to the iPhone's full-size output. Apple Camera's digital zoom in iOS 4 and newer operating systems has raised the bar for iPhone digital zoom. It's sharp without the halos, noise and artifacts of some sharpening algorithms. While there are those who would argue that any digital upsampling is worse than simply cropping, Apple's new zoom proves that with a good algorithm, a good digital zoom when not used excessively is better than cropping or nothing at all.
5. A good burst mode is another reason for a third-party camera app. Apple's Camera doesn't offer a burst mode. If you need multiple shots for an action sequence or just for safety, a good, fast, full-resolution burst mode is a nice feature to have.
6. Full-resolution support. It needs to support the full resolution of the device you are shooting on. This one should be a no-brainer.
Many camera replacement apps also include other really nice advanced features, such as geotagging, separate focus and exposure and white balance lock. For me, these other features are great, but not deal-breakers.
Camera replacement apps aren't needed by everyone. The Apple Camera app works great. But a good camera replacement with the right tools and features can sometimes help make the difference between a good shot and a great shot, whether it's through the leveling and composition capabilities of viewfinder grid lines or the sharpness of a photo taken with anti-shake enabled.
In the coming days and weeks, I'll be spending some time reviewing new and updated camera replacement apps — both commercial and free. I'll be referring back to this post often.
What are some of the features you look for in an iPhone camera replacement app? Share them in the comments below.
=M=
~~~~