Despite its current 612×612 pixel resolution, Instagram is a hugely popular photo app. It makes it very easy to shoot a photos and share them with a number of social networks, including Facebook, Flickr, Twitter, and its own Instagram network. It's a pretty fun app and I've been using it myself (@martyneardfw on Instagram).
Often, the dialog is one way. Photos can be "liked" and comments left. Unfortunately, leaving a comment on another buddy's photo doesn't always guarantee that the intended recipient will see what you wrote, especially if the photo has moved pretty far down their photostream. Here's a quick and easy way to help make sure your buddies see comments posted on other's photos in Instagram.
Instagram doesn't by default notify a user when comments have posted to another buddy's image. Users have to scroll through the photo feed to read what others have posted. Often, your InstaFriends will never see your comment.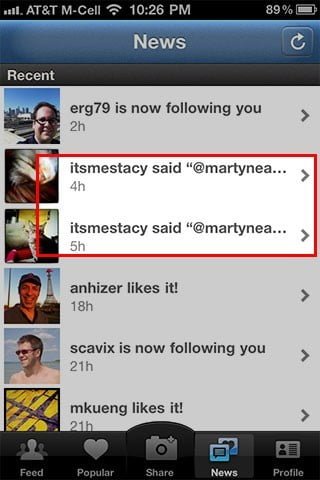 .
Instagram now has a way to notify your InstaFriends of new comments. When you want to DM a comment on another buddy's photo, simply refer to the intended buddy with an "@" symbol — @(username), the same way you would with Twitter or Facebook. A notification and an easy link then shows up in the recipient's News tab.
Instagram is free and runs on any iPhone, iPad, or iPod Touch running OS 3.1.2 or newer.
=M=
~~~~
Thanks to Jay Lemieux for the heads up on this tip.
Related Link: Instagram 101: How to save your original images