ProCamera
Version 3.0
Price: $2.99

Bottom Line: Still the best camera replacement app in the store — fast, powerful, stable — but the new Studio module is great in some ways, a little disappointing in others.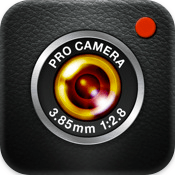 No doubt about it… ProCamera by daemgen.net is still the best camera replacement app in the App Store. Not only does it have every feature I look for in a camera replacement app, daemgen invented features I didn't even know I needed before (okay, maybe not really, but the white balance lock feature is pretty nice!)
The new ProCamera 3.0 update is available now. The already awesome camera module is improved even further in this update with new features and performance enhancements. The new, highly-touted Studio feature, while nicely featured and very well-implemented, suffers from performance issues.
While the iPhone's cameras have always been functional, they are missing many of the features to help you take better pictures with the device. A good camera replacement app has any or all of these enhanced features and more: grid guides to help with leveling and composition, camera stabilization, a "big button" full screen shutter release, digital zoom (for cameras without iOS 4′s new zoom feature). This is what makes a camera replacement app an appealing purchase.
In this update, ProCamera gets a sexy new icon and an animated, revamped interface. The new animations, artwork and sounds are more subtle than skinned photo apps. The UI is still very much well-designed and use oriented, and doesn't have the distractions or clutter of a camera shell. Don't like the new sounds? Switch'em off in the app's settings. With my big fingers, I like the audible cues.
Camera Module
ProCamera 3.0 builds on all the previous ProCamera updates, including the string of excellent updates 2.5-2.9. Read our review of the excellent 2.8 update here — it's all still relevant. The camera module is still by far the best camera available in the App Store. With the new features and improvements of this update, ProCamera is a compelling alternative for your default, go-to camera.
ProCamera arguably takes the greatest advantage of iOS 4's camera APIs. It fully supports background processing. If you back out of the app for any reason, it takes you right back to where you were in the app. You don't lose anything unless you quit the app. You have easy access to the camera's flash, front facing camera, and video controls (on devices that support these features).
ProCamera is fast — really fast. 4 seconds to start up cold until you're ready to shoot. It opens up right to camera — no menu screen — ready to shoot. Reopening while it's in the background is almost instant. If you leave it open in iOS4 background, it's ready to go always.
It feels at least as fast as Apple Camera on an iPhone 4. ProCamera reload times are excellent — about as fast as you can shoot. It was fast before and reload times for shooting without the zoom have again been improved even further in this update.
You can now toggle the full-screen big button off or on in the settings. Full-screen trigger now has its own separate anti-shake setting, a really good and innovative feature.
ProCamera improves upon the standard exposure and focus. Separate exposure, focus and white balance locks can be accessed by turning on Expert mode. To split out focus and exposure, tap and hold the desired point of focus onscreen. You can then drag the blue Focus box or the yellow exposure box anywhere onscreen to set them. Unlike Apple's Camera, these settings lock and hold until you release them rather than resetting with each shot. This is a great feature that enables you to take multiple photos with your custom settings. Tap and hold the center of the viewfinder to reset back to standard autofocus mode.
ProCamera has always been on the leading edge of supporting image geotagging in a third party app, and it's been improved in this update. You can now view all sorts of geo-tag info in the Album module. The Pro view is thorough, clearly showing data such as image size, aperture and exposure. The Expert tab gives you much more in-depth info about your image — a lot of info that you didn't even know was embedded in your photos.
Studio Module
While not new, the Studio module is greatly improved with a ton of new features, tools and filters.
The Pro Lab feature gets two gets three excellent new tools — color saturation, a color temperature adjustment tool and what I call a "Magic Bullet" tool (Auto Contrast and Auto Color tools). The Magic Bullet tools are great and can quickly, easily and automatically perform most of your in-app brightness and color adjustments. Use the new Color Temperature tool to automatically compensate for the cast created by various light sources. Both tools are quick and easy and do a good job. This feature rocks.
The new Pro Cut feature is a very good in-app cropping tool with a feature set that rivals most dedicated cropping apps. The cropping tool allows to to crop with one of several preset aspect ratios or freehand. Images can be flipped horizontally or vertically. You can rotate images in 90° increments or use the slider to straighten images in increments of 1°, up to +/- 24°. Like the best cropping apps, ProCamera interpolates straightened images so that they save at their full, cropped image size. The algorithm used is one of the best I've seen on the iPhone. Overall, the controls are precise responsive and I didn't often see "rotation creep" found in other apps, where the straighten slider slips a degree or two when you take your finger off the screen.
I initially had some problems with the cropping module. After updating, images would crop but would not save, either to the app or the camera roll. After processing, the tool went to an empty screen and my edits were lost. I was eventually able to fix this by quitting the app and rebooting my iPhone – twice (actually, the second was a reset). I'm now unable to reproduce the cropping problems. If you experience them, I suggest you force-quit the app and reboot. It seems to have solved the issue for me.
Another annoyance for me, the square frame 1:1 crop does not crop precisely. When using the 1:1 preset, the square crop was always anywhere from 1 to several pixels different. While one pixel isn't going to be visible in a 5 MP image, it's still an annoyance that other cropping apps don't suffer from.
The new Pro FX module features 32 new filters and adjustments, ranging from color overlays and tweaks, vintage effects, more extreme special effects and another set of filters to compensate for luminance, color and contrast. It's ProCamera's answer to the popular Lightbox editing tools of the now-deleted Camera+ app. Comparisons will be made, so let's start here.
Check out the screenshots above of the filter set of both apps. Although, ProCamera features one more pane of filters, overall, there is only moderate duplication with the Camera+ set, even though ProCamera does not offer a set of borders and frames. I think the old Camera+ set has a more usable set of effects. Other than the Retouch tab, I found most of ProCamera's filters to be oversaturated, not lush, detailed and nicely textured like many of the dedicated effects apps. In this regard, Camera+'s filter set was far more usable to make pleasing effects. The vintage-style effects in the old Camera+ seem more authentic and better rendered than ProCamera's.
ProCamera's Retouch panel, though, is very usable and adds another good set of filters to compensate for color anomalies in the image. Filters in this tab fix a myriad of color issues that are characteristic of the iPhone's camera. In particular, the Yellow Fix filter does a great job of fixing the yellow cast in images that were photographed indoors using incandescent light bulbs. I think this tab is misplaced in the Pro FX tab — it's more of a "Lab" feature, but if I use the Studio module, these would be the tools I go to.
I found all three elements of the Studio module to load slowly, hesitate on loading, and lag on screen redraw. While this doesn't effect the operation or the stability of the tools, the hesitation and lack of smoothness onscreen was annoying to me. Even though it never crashed, overall, for me the studio module is slow and laggy in this update.
I don't like the way the Studio module saves the image to the camera roll after every function. That's going to create a lot of image clutter in your camera roll if you use the app to crop, then to apply a scene adjustment, then to apply an effect filter.
The studio module is a new, highly touted feature of this update. A lot of readers are going to be excited about this new feature and it has the possibility of drawing in a lot of new users, especially displaced Camera+ users.
I realize that many iPhoneographers will choose not to use the new Studio module, preferring to process their photos in deidcated apps. I like the way the Studio module is incorporated into the app — it's there, but unobtrusive, not cluttering the interface if you choose not to use it. Regardless of how the app is actually used, I've got to review it as a whole — camera module and studio module. And I'm not too excited about the Studio module as it is now. There's room for improvement there and I look forward to see where this goes in the inevitable updates.
All the of other excellent features of ProCamera are still here — user selectable composition grids, adjustable anti-shake, excellent 5x digital zoom and direct saves to camera roll. ProCamera has more features than ever, yet is still fast, stable, and rock-solid. This update improves the already excellent camera by improving performance and tweaking the features that expert photographers will really appreciate, yet keeping the option to hide the expert goodies away if you prefer an easier, less cluttered interface.
Unless all you do with your iPhone is point-and-shoot, ProCamera is powerful enough for the most demanding iPhoneographer, yet still usable and highly recommended for all. This is an iPhoneographer's photo app — just the camera alone makes the app worth it. Given the number and scope of the new features and improvements, this is still a very good update.
ProCamera works on any iPhone or iPod Touch 4th Gen running iOS 4.0 or newer — that means owners of the old iPhone 2G are out of luck on this update. The lastest version of the iOS is needed to take advantage of some of the app's advanced features. ProCamera is $2.99 in the App Store.
=M=
~~~~