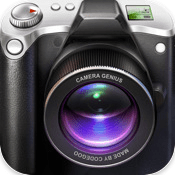 Camera Genius 3.4 is a fast, all-in-one camera app. The app has recently gotten several good updates all adding up to one very improved camera replacement app. It now holds its own against Camera+ and ProCamera and is definitely worth a look. It has several unique features as well as some unique built-in filters. It's a solid, full-featured camera replacement app. You can read more about the recent versions in my previous review.
I've got 5 free promo codes to give away. Click past the jump to learn how you can win one. >>>
Right now, I've got free Camera Genius promo codes to give away to five random readers who request one in the comments below. To win, request a code in the comments below. You can comment as many times as you like, but only your first comment will count. Cut-off time to enter is 11:00 PM Central Time tonight, Wednesday, March 8, 2011. Winners will be determined by random selection. This is for the full version of Camera Genius. One code per reader, please. If you're one of the winners, be sure I can email or DM you somehow.
Camera Genius works on iPhone 4, 3GS, 3G and iPod Touch 4th Gen. It requires iOS 4.0 or later. It normally sells for $1.99. Right now, Camera Genius is on sale for only $0.99 for a limited time.
UPDATE: Wow! That's a lot of entries. I wish I had more Camera Genius promo codes to give away. Random chance (well, actually Random.org) says that commenters Cyril, Lisa, Shaw, Martin Low, and Lacey each win a free copy of Camera Genius. I'll email those codes to you within a day or so. Everyone, thank you for entering. Stay tuned… I've got more apps to give away soon. =M=
=M=
~~~~
Big thanks to Jeff McMorris from CodeGoo for the promo codes.