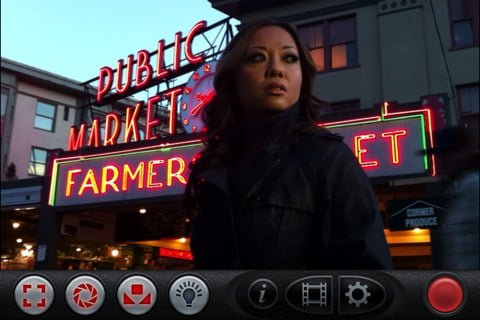 We usually don't cover iPhone video apps here on Life In LoFi, but Cinegenix have just released a pretty cool new camera app that I'm pretty excited about. It's a video app that brings professional features to iPhone video.
FiLMiC Pro by Cinegenix is billed as "THE Filmmaker's App." They are pretty close. FiLMiC Pro adds features specifically for videographers which improve the video production experience on the iPhone.
The iPhone has a good built-in camera that can capture some quality HD video. Recently, I've seen some interesting video and short films created on the iPhone. You can check out the music video for "Nancy Lee" by Vintage Trouble shot exclusively on an iPhone 4 by Emmy Award winning Director Alen Petkovic on Phoneywood.com or one of my personal favorites the quirky and brilliant "Sharkoon" by Dan Bakst and Dan Nguyen.
FiLMiC Pro is a full-featured video camera designed with the videographer in mind. I've got the full feature list below, but basically there's everything you could want in here to shoot some pretty serious raw video.
The app was created by two filmmakers. "I just wanted something, for myself, that was comfortable and well laid out, logical. Everything you need and nothing you don't. None of the clutter that gets in the way of what you want, which is to get a really good shot, each and every time," says Tony Tibbetts, filmmaker/lead-designer and co-founder of the FiLMiC Pro.
It's all easy to use. All the controls you need are right there in the viewfinder. It's got separate focus and exposure targets, white balance lock, a user-switchable rule of thirds grid. To help keep tabs on your scenes as you shoot, there's an excellent, easy to use film production slate that tags each scene and has a Sync Flash and Tone for syncing to external audio or multi-camera shoots.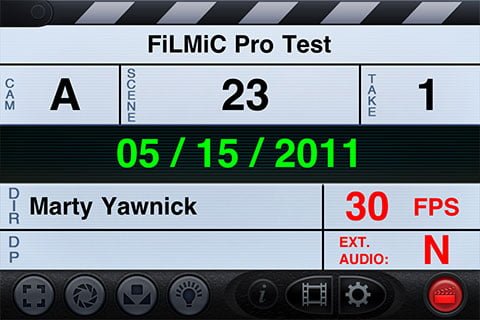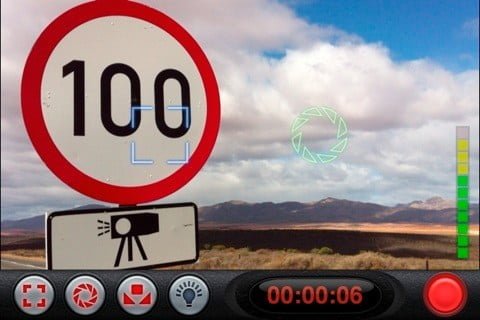 It supports 4 resolutions on the iPhone 4, including 720p video, 1280×720 in a standard 16:9 aspect ratio. One of the features I love about FiLMiC Pro is its accurate video viewfinder. The standard video camera on the iPhone 4 displays a narrower 4:3 aspect ratio even though it shoots in the wider 16:9. It captures about 25% more video than you see while recording. (UPDATE 051611 @ 10:45: Actually, I found out this morning that the Camera pp does display 16:9 video — double tap the viewfinder. Thank you, Dixon Hamby via Skip Hunt. =M=) All of FiLMiC Pro's controls are at the bottom of the screen and the viewfinder shows 100% of the frame for accurate composition. Shooting for another aspect ratio? FiLMiC Pro has additonal framing guides for 4:3 and 2.35:1 aspect ratios to help with composition.
Unfortunately, the framing guides are only viewfinder indicators and they don't letterbox the video in camera. That would be cool if it did. Also, the much-touted thumb-based record button is in the lower-righthand side of the viewer which when using a normal grip will obstruct the iPhone's built-in microphone. With a tripod or a careful grip, it won't be a problem. Fortunately, FiLMiC Pro has a setting for external audio.
Apart from the few minor glitches with the app, FiLMiC Pro is a great advanced video camera. There's no zoom lens, no built-in effects. FiLMiC Pro has an impressive and useful set of professional tools for capturing video. When I was testing it, I kept thinking that when combined with an OWLE Bubo, it would make a heck of a video rig. This isn't a toy. It's a tool for some serious amateur vidoegraphy.
FiLMiC Pro is $7.99 in the App Store.
Download FiLMiC Pro
App Store link: FiLMiC Pro – Cinegenix, LLC
.
Here's all the App Store info:
FiLMiC Pro By Cinegenix
Description
FiLMiC Pro is THE Filmmaker's App. A dedicated video camera app that respects and builds upon the high definition capabilities of the Iphone 4. FiLMiC Pro enables users to take their mobile cinematography to new heights by asserting as much manual control over camera functions as possible and including additional variable frame rates from 1-25 frames per second.
MAXIMUM CONTROL:
The FiLMiC Pro control bar is thumb based to enable a rock solid grip on the camera. Designed by filmmakers it provides the best camera UI in the business with perfect access to all camera controls from a fixed, two hand grip position.
THREE RETICLE SYSTEMS:
At the heart of FiLMiC Pro's superior manual control functionality are three separate focus and exposure modes. This gives you more ways to personalize your shooting method than any other video camera app. Combined with the lockable control buttons and you have complete control of your shots.
Double Reticle Mode gives you two separate adjustable reticles for spot sampling focus and exposure for precision shot set up.
Single Reticle Mode provides a center positioned spot sampling reticle for both focus and exposure for sports, action or quick run and gun scenarios.
Full Frame Mode samples both both focus and exposure from the entire frame for expedient and simple shot set up.
ADVANCED FEATURES: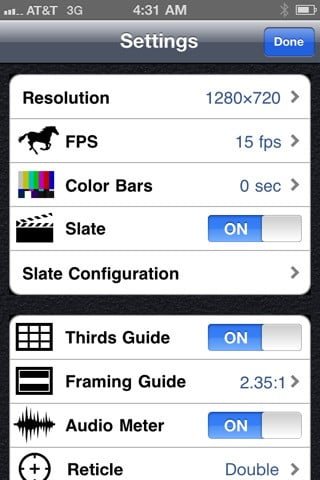 The FiLMiC Pro settings menu offers some features not offered in any other video camera app as well as a host of other useful tools.
Variable Frame Rates (1-25 and 30fps) including both the US (24p) and European (25p) film production standards.
Four Selectable Resolutions (iPhone 4 or 4th Gen iPod Touch).
Framing Guide Overlays (4:3, 16:9, & 2:35.1).
Thirds Guide for composition.
Audio Metering.
Color Bars for Post Production.
Film Production Style Slate for adding info to your clips, syncing dual system audio, and organizing your clips.
BUILT IN SLATE:
The slate function within FiLMiC Pro enables a world of control from a simple, configurable menu. FiLMiC Pro loads the slate before you shoot to preview and then prepends the slate to your footage before depositing it in the Clip Library within FiLMiC Pro.
Inform your editor with production, camera, scene, take, date, director, DP (cinematographer), frame rate and external audio fields.
Automatic escalating take numbers.
Sync Flash and Tone for syncing from an external audio recorder or multi-camera shoot.
UPLOAD OPTIONS:
DropBox
YouTube
Vimeo
Facebook
FTP Server
~~~~