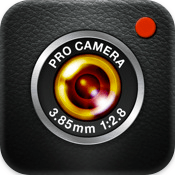 ProCamera is an excellent iPhone camera-replacement app and has a very powerful set of features, not only for shooting, but with its recently added Studio and FX modules, you can tweak in-app and apply from a great selection of filters.
Normally, ProCamera sells for $2.99. Right now, it's on sale for only $0.99 — a savings of $2.00. ProCamera is rarely discounted and this sale is for a limited time only, so grab it now.
None of the improvements and additions get in the way of the excellent camera module of ProCamera. For shooting, the app adds tools to help improve the quality of the shot in camera, including separate focus and exposure lock, white balance lock, and anti-shake stabilization. It has all of the things to look for in a good camera replacement app.
The studio and effects modules put the app on par with other all-in-one camera apps. You can read my review of the ProCamera version 3.0 update here. It's an excellent photo app for getting the best shot in camera and it's my go-to camera replacement app.
ProCamera works on any iPhone or iPod Touch 4th Gen running iOS 4.0 or newer. The latest version of the iOS is needed to take advantage of some of the app's advanced features.
=M=
~~~~