So, you got new iPhone for Christmas…. You've already downloaded Angry Birds and have asked all of the "Siri-ous" questions (my personal favorite is "Open the pod bay doors, please, Siri.")
Your new iPhone comes with a pretty serious camera and with the small investment of a few inexpensive photo apps, you can take and share some really cool photos.
But navigating the App Store can be intimidating without a little help. Here's Life In LoFi's guide to the best starter photo apps.
If you have a friend or family member who recently got a new iPhone, this is a great list to share with them. There's a quick and easy email button at the end of this post. >>>
One of the great features of the iPhone camera is the availability of thousands of photo apps in the App Store. For less than the cost of a cup of coffee, you can buy an app that gives your photos an entirely new look than just the basic snap and share — in essence, buying a new "camera."
Not all photo apps are created equal. Some highly rated photo apps are pretty powerful, but have steep learning curves. Others may have a lot of five star ratings because of what's called App Store "shill reviews."
Here's our short list of the best starter apps. While there are many great photo apps available ready for you to discover, these apps will not only give you the most bang for your buck (or two), but are also super easy to learn and get up to speed quickly with.
1. Camera+
There are a lot of apps with "Camera+" in the name. The one you want is the one by tap tap tap. Fortunately, this one is always at or near the top of the App Store rankings and deservedly so. Camera+ is a powerful iPhone camera replacement app and built-in photo studio app. It's easily the best all-in-one camera app available.
Camera+ has great additional tools to help you capture better pictures that the iPhone's Camera app lacks, such as anti-shake camera stabilizing, self-timer countdown, and separate focus and exposure targets.
The app's built-in photo studio has more tools to help you crop and adjust the brightness, contrast and color of your image. Camera+ also has dozens of built-in frames, effects and filters to stylize your photos with the look of everything from faded film to toy cameras to overall color changes. All of the filters are one-click easy and they all look great. Save or share from within the app.
There are other great camera replacement apps, but for starting out it's tough to beat Camera+ for quickly and easily taking great photos.
Camera+ is normally $1.99 in the App Store. |
2. Hipstamatic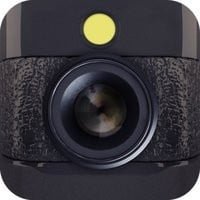 Hipstamatic is the wonderful iPhone-only photo app that many people think of first when they think of arty iPhone photography. It recreates the look of stressed, vintage, analog film complete with noise, digital light leaks, smears and vignettes. It really does a great job recreating the imperfections of a toy camera. Hipstamatic's effects are unique, gorgeous, and well-rendered. There are no other photo apps that create these great effects.
Hipstamatic is a fun camera to shoot with. It feels analog. It's the experience of an old camera shooting within an iPhone and along the way, it creates some stunning photographs. Like an old real camera, Hipstamatic makes you play with lens, and film combinations to get your results. To dive right in, try the app's great "shake to randomize" feature to discover surprising lens and film combinations.
Spend the buck or two for the original Hipstamatic app (and be ready to feed your new photo addiction with the several add on HipstaPak lens and film purchases). The new Hipstamatic Disposable may be free but it lacks most of the filters, functionality, charm, and fun of the original.
Hipstamatic is normally $1.99 in the App Store and comes with several standard "films" and "lenses". |
3. FX Photo Studio
In the latest version of FX Photo Studio, there are about 200 different effects that you can apply and combine. There is such a broad range of effects in this photo app, there is something for everyone's taste, ranging from grungy film overlays all the way to a selection of "cute" photo frames.
Each effect is one-click easy, but there's also a slider that allows you to adjust the intensity of each effect. There's also a hideaway toolbar with even more control over each effect. Favorite presets can be saved for easy access and your favorite filter combinations can easily be added as presets.
It's a powerful, extensive set of filters but it's also super easy to use if you just want fast, one-click filters. And there are a ton of filters and looks.
FX Photo Studio easily shares your photos straight to Instagram. What is an Instagram, you may ask…?
(By the way, FX Photo Studio usually sells for $1.99 in the App Store. |
)
4. Instagram
Instagram is the insanely popular square format social photo sharing app. It makes it super easy to shoot and share photos not only on Instagram's own photo sharing network, but one click also shares your images with Facebook, Twitter, Flickr, and others. While Instagram may not be the best social photo app in terms of how good the app itself is, it is the most popular. Over 15 million users currently connect and share their photos over Instagram's network — and that's even before the new Android version of the app comes out opening up the network to millions more users.
It doesn't get much easier than Instagram. Shoot. Choose one of Instagram's 17 one-click filters. Decide whether you want a border. Share. You can also add a tilt-shift effect to change the look of the focus. The price is right — Instagram is free and there are no in-app purchases.
Instagram is easy and fun. There are a very wide variety of photographers or "Instagrammers" sharing their pictures on the network.
Instagram is FREE in the App Store. |
5. Simply B&W
Converting a photo to black and white changes the mood and feel of the image. Many photo apps can convert your photo to black & white, but few make a black and white photo convert well. Simply B&W is one of the apps that does a great job of converting color to black and white. It's also super fast and easy to use.
Getting a good black & white photo is usually more involved than simply removing all the color from an image. Often, doing that (it's called "desaturating" a photo) creates a gray photo that's pretty lifeless and lacks punch. By using the digital equivalent of an old photographer's trick, Simply B&W is an excellent tool to create great-looking black & white images with punch, richness and contrast.
Simply B&W has a clean interface and is easy to use. Even if you don't know photographic color theory, Simply B&W makes it one-click easy to convert your images into some great-looking black & white photos.
Simply B&W is normally $0.99 in the App Store. |
6. PhotoToaster
Phototoaster is an image editing app for users who need more than the built-in tools of an all-in-one camera app, but might not need all the tools of one of the big "Photoshop for the iPhone" photo editors. PhotoToaster is a good, lightweight image editing app for cropping and rotating, making fast and easy color and brightness tweaks as well as quickly applying effects from a selection of presets.
I like that PhotoToaster's interface is easy to use, but keeps most of the tools out of the way until you need them. I like the selection of one-click adjustments that tweak lightness, color saturation, exposure and contrast all with the click of one preset. PhotoToaster gives you the flexibility of switching to a precision adjustment with one convenient push of a button.The app also has a bunch of filter and effect presets, as well as a selection of several frames and borders.
It's a deceptively powerful but easy to use photo editor. It's also got great sharing support, including built-in Facebook, Flickr, Twitter, and Instagram sharing as well as built in email and text messaging sharing.
The full version of PhotoToaster is $1.99 in the App Store. |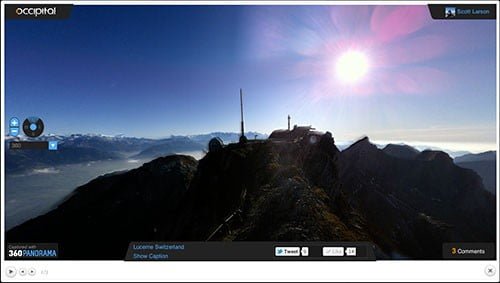 7. 360 Panorama
360 Panorama lets you easily capture immersive panoramas in seconds and instantly share them. Simply pan the camera and watch as images are stitched seamlessly. The app uses the built-in gyro of your iPhone 4 or 4S to position and capture each panel of the pano in real time. The end result is an interactive image that's just like clicking around streetview of Google Maps.
Easily share or email your creation online. 360 Panorama has built-in share support for Facebook, Twitter  and others.
I often recommend AutoStitch Panorama here on the blog. While AutoStitch gives you different options in creating panos, in doing so it adds a layer of complexity to creating panos. Nothing beats the speed, ease and stability of 360 Panorama for making quick and easy panos with your iPhone.
360 Panorama is currently $0.99 in the App Store. |
…
All of the above apps work great with the iPhone 4 and new iPhone 4S. These apps were chosen because of the quality of the effects and the ease of use. You'll notice most of these apps are "one-click" easy. They are all great starter apps for a new iPhoneographer.
The iPhone is a great device that can do a lot of cool things. It's a camera that's almost always with you to record and share moments. All of the apps above cost less than $20 combined — a lot less if you can find them on sale (we often post app sales and freebies here and on Life In LoFi's Facebook page). A small investment will get you a good start to your iPhone photography toolbox or to simply help you add a bit of style to your snapshots.
=M=
~~~~