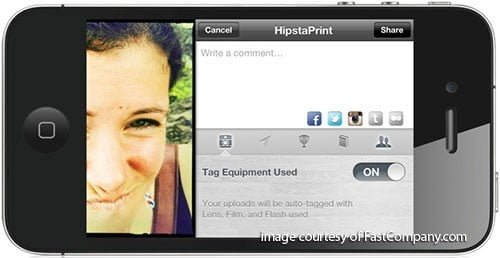 Hipstamatic have announced on their Facebook page news of a new update today. The new features greatly expand the sharing capabilities of Hipstamatic and let users tag Facebook friends and upload to multiple networks simultaneously — including Instagram.
More info after the jump. >>>
A scoop on the Fast Company website has more details of the new partnership between two of the most popular photo apps available on iPhone.
"Hipstamatic is set to unveil a partnership with Instagram that allows photos taken on the camera app, which enables users to snap professional-looking pictures with stylized films and vintage-era lenses, to be ported directly into Instagram's network with just one click. It represents the first time Instagram has opened up this platform API to third parties, and marks a move toward letting photos freely flow into Instagram's network from outside sources. "When we launched, it was all about Facebook and Flickr and Twitter, and now we're seeing a huge shift in our user base toward Instagram," says Hipstamatic cofounder and CEO Lucas Buick. "We've never been a social networking company, but we clearly benefit from social networks. So this will be the first app outside of Instagram that lets you into their network. That's pretty cool for us.""
Click to read the entire article "Exclusive: Hipstamatic, Instagram To Unveil Photo-Sharing Partnership" by Austin Carr on FastCompany.com.
The new sharing looks really easy and seamless from a user perspective. Unlike most other apps that "hook" to Instagram, this looks to save directly to your photostream as if the image were shot and processed in Instagram itself. The Hipstamatic update is due to go live sometime today. available now in iTunes and as a free app update for previous owners.
UPDATE 01: The new Hipstamatic 250 update is now live in the App Store. Hipstamatic's built-in photo library has been completely madeover. It's less "retro" but a bit more user friendly and functional. Linking my copy of Hipstamatic to Instagram was fairly painless. This isn't like the "Send To Instagram" hook you see in many other photo apps. You'll need to enter your Instagram username and password before your first share. The new sharing window is pretty nice. Sharing to Instagram, Facebook, Twitter and Tumblr I never had to leave Hipstamatic.
If you don't already have Hipstamatic, the base model is $1.99 in the App Store.
…