Operating under the moniker Konstruktivist, Dan Cristea is one of the most prolific and original iPhoneographers around. Based in Toronto, Canada, he is a graphic designer as well as founding member of the Lofimode.com website, which he runs along with friend and fellow iPhoneographer Richard "Koci" Hernandez.
Yesterday, we presented Part I of Dimitris Karathanos' extensive interview. In Part II, Dan Cristea talks more about his photography, his style, and gives advice to shoot by. Click past the jump for the conclusion. >>>
Life In LoFi: What other photographers inspire you? On second thought, let's make this question more challenging…. Let's exclude the major, popular artists! Who are the iPhoneographers that are tragically underestimated?
Dan Cristea: Unfortunately I don't have a lot of time looking for new iPhonographers but from the ones I follow on Instagram I would have to say; @felixzero, @Intao, @ilein, @twopennykarma, @daveweekes68, @_blemish_ , @rottenronnin, @vladatat, @du_lim, @xxxyxyz, @dopez, @fabgrassi, @dayzdandconfuzd, @aniexe, @saturninofarandola.
LOFI: Do you ever have a creative block? If so, what do you do to break out of it? Do you look at the work of other iPhoneographers to be re-inspired?
DC: Yes, of course I do. I believe that any creative individual has some sort of block, it's inevitable but necessary.I often try to break away from photography because it can be overwhelming at times. Just like a muscle, you have to break it in order to build it back, to make it stronger and more efficient. Therefore, rapture is necessary in order to evolve.  If I would say that I don't look at other iPhoneographers I would lie. I might go for a walk without shooting. But instead look at things and try to capture them with my mind's eye. It's a different way of training the mind to be more receptive next time I shoot. Everyday people and nature inspires me a lot as well as some good readings and spending quality time with my family.
LOFI: Do you also shoot with other cameras other than an iPhone? In fact, I know you do. I just thought this might be a good chance to discuss your love of Polaroid.
DC: My love for photography came way before the iPhone existed so yes, I do shoot with other cameras. I'm starting to have very interesting collection and some of them go back as far as 1930. Like any amateur photographer, I started with black & white film back in the days and moved between different types of cameras and films. Recently, I shot a couple of slides with my Polaroid SX-70 and the Silver Shade film from The Impossible Project that I plan on enlarging and have them up in some galleries around Toronto and hopefully in other places in the world. Very excited about this project.
LOFI: For all the good mobile photography has done, do you feel it's all become too easy now? That so many people can claim they are "photographers," simply because they can post to Instagram?
DC: Well, I've always said that there are those who take a picture and those who photograph. But more than anything I think that IG is a learning platform where anyone can truly learn from each other in a friendly and dynamic environment. ?I've witnessed incredible improvements from those who really are passionate about this medium and it is only going forward, very exciting time to be alive.
LOFI: Although you've mastered a very unique style — by looking over and over at your photos, I'd say there's two Konstruktivists: one of them is constantly out on the streets, capturing moments, posting raw, almost unedited street photography, shot from the hip, Cartier-Bresson style. The second Konstruktivist, (partly perhaps due to your relation to graphic design), creates complex diptychs, triptychs and multilayered image collages by using an arsenal of apps in an attempt to evoke emotion and narrate visual stories. How are those two characters of your get along with each other? Do they co-exist in harmony with each other? Or are they ruthless competitors?
DC: I truly believe that highly visual creative people are multi-dimensional. When I look at some of the Instagrammers that I greatly admire and follow, I often think of what else they could accomplish creatively if they had to?
I have a genuine love for street photography that I would never be able to get away from and I am perfectly happy with that. But on the other side of the coin there is this creative spirit in me that wants to evoke emotions in a totally different light. Graphic design has a tremendous importance to me and I try to use it in order that it compliments an image rather than just adding "cool elements" to it. In the end it's all about visual communication really and how well that images speaks to others. Because as soon as you decide to post that image, whatever you think about it goes out the window. I'm more interested in "WHY?" instead of "HOW?"
I think that the Dyptics are in a way that middle ground between pure street photography and illustration. I love the simplicity of it and how strongly it can communicate. All that said, I would like to think that these to sides of my creativity compliment each other rather than competing. But, maybe subconsciously they do?
LOFI: I've read somewhere that there's only two kinds of photographers: farmers and hunters. I suppose that applies to the "chance or method" dilemma. Which category would you put yourself under?
DC: Without a single doubt, hunter!
LOFI: Apart from being a perfect camouflage for street photography, do you prefer shooting with your headphones on? Does the kind of music you listen to unconsciously determines your artistic outlet?
DC: Funny enough I rarely shoot with my headphones on. For some people it works really well, and others not so much. I like to be aware of my surrounding as much as possible. The street sounds are a very important element of how I work. It's a language on it's own and I like to tune in as much as possible. Also, it is a question of safety. If you ever ask my fiends how it is to walk with me on the streets you will soon find out that one second I can be near you and the next running on the other side of the street to catch something, haha. I'm a bit erratic that way.
LOFI: If I could give a title for this interview and for your photography in general, I'd name it "Expect the Unexpected". Give us the 9 remaining rules for a "ten rules for street photography" short guide.
DC:
1.    Don't think, just shoot (Koci)
2.    Observe, observe, observe
3.    Visualize ( See it before you shoot it)
4.    Don't have the lock screen on your iPhone
5.    Be ready to shoot at any moment
6.    Find the right camera that defines your own style
7.    Avoid shooting with the native iPhone camera
8.    Be curious
9.    Understand light, it's almost everything.
LOFI: Let's discuss humans: is it my own impression that you have a great affection for the down-and-out characters? Your photography usually chronicles the working class, the poor, the elders, the outcasts.
DC: As a story teller/photographer you have the duty to notice the N.O.W. And when I say that, I mean Notice Our World. I'm not a journalist and my pictures surely don't translate that feeling. What interests me more than anything else is the human condition. If a picture does not evoke a sentiment or a feeling that I can personally relate to, it simply does not interest me. So in that sense, yes I do have affection for certain kind of people. However, it is a very personal thing that it is very difficult to explain. The more I shoot the more I think that my work is focused more on a wide spectrum of emotions more than anything else. I know deep down inside that this is where I'm going for.
LOFI: I'm borrowing a quote from one of your photos from your stream for the next question: "I do not judge, I only chronicle", by John Singer Sargent. All of your images are complimented by famous quotes on every possible subject, from art, to love, to loneliness, to time, and so forth. I've noticed that many of your followers relate themselves to those quotes, the combination of text and image helps them go through stuff. Is that your initial intention? And what comes first? Does it all start with the image or do you have the quote in mind and then go after the picture?
DC: I never wanted to publicly educate people because it is not my job to do so. The quotes that I post along with the images are often there to support my thoughts. But first and foremost these quotes are there because they help move through some personal stuff. And if I am successful in my expression, I am more than happy that it reaches out to others because that's what art is supposed to do. Or at least that's how I like to think about it.
…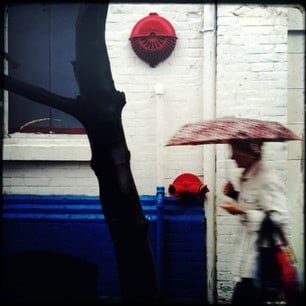 Contact: lofimode.com
~~~~