Plus, we've got an exclusive preview of the next major update.
Fake-Polaroid apps — I call them fauxlaroids — are a staple of lo-fi digital photography. Polamatic recently became one of my favorites. However, the last two updates were plagued by frustrating orientation bugs. The new 2.3 version has just been released. It fixes all of the image orientation problems found in the previous two updates.
If you don't already have this great lo-fi app, read on. We've got a bunch of promo codes to away this weekend.
Polamatic is one of few officially licensed Polaroid apps. I spoke with the app's developer today and it's a license that his development team take seriously. It's one of the more authentic-looking digital recreations of an old, square Polaroid SX-70 print available in the App Store. Appadana actually started with professional, high-res scans chosen from thousands of original Polaroid SX-70 prints.
The recent updates added higher, more usable resolution (see my review of Polamatic 2.0 here), but there were a few bugs in the app, including a 90 degree rotation bug. This bug has been fixed and the app saves images in the correct orientation whether they are shot in-app or improted from your photo library. The Flash switch and the front camera toggle at the top of the screen are still broken on my iPhone 4 and 4S. For me, the app is stuck in auto-flash mode and on the rear camera, although I've gotten reports from other users that both features work fine on their devices. There's a big update coming soon and this isn't a dealbreaker for me.
If you have a previous version of the app, this is the best update to date and I recommend you download version 2.3.
Polamatic 3.0 Preview
A big, new Polamatic update is planned for release later this month. I'm excited about the new features, including true high resolution support. The resolution will be bumped up to: 2282x 2771 pixels (up from the current version's 1050×1275 px) which will allow printing double the size of the original Polaroid (7×8.5in) at Retina resolution (326 PPI). It'll allow even larger sizes at lower print resolutions. Polamatic 3.0 will also have a very cool lightbox workflow. It gets its own gallery view so you can save your Polaroid pictures and re-edit them at anytime in the future, including recropping, reprocessing and reframing. There are other new features and user interface improvements as well. Look for the 3.0 update in a few weeks.
Polamatic Giveaway
I've got a few copies of Polamatic for iPhone to give away this weekend. To be eligible to win, simply enter the giveaway below. If you follow us on Facebook and Twitter, you can get additional chances for a promo code.
Cut-off time to enter is 11:59 PM Eastern Time Sunday, September 9, 2012. Winners will be determined by Random.org. One code per reader, please.
Winners will be notified by email, Facebook message or Twitter direct message — be sure to check your spam filter. If you enter, be sure your email info is correct or your code will go to someone else. Your email address is used for contest entry and for contacting the winning entrants only. We will not use or sell your email address for any other purpose.
(If you're having trouble viewing the above widget on a mobile device, try viewing this page in landscape mode on your iPhone.)
If you have the current version 2.3 of the app, that will get you into the upgrade path. Polamatic is $0.99 in the App Store. Requirements: Compatible with iPhone, iPod touch, and iPad. Requires iOS 5.0 or later.
=M=
..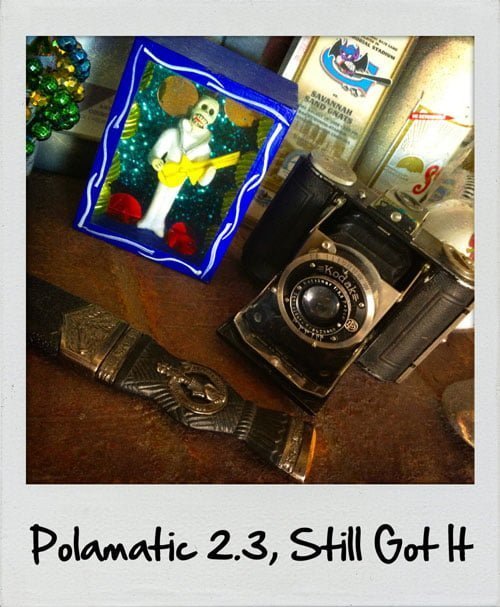 ~~~~