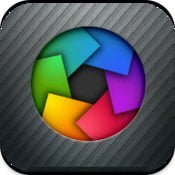 Photo app Process is a very good, versatile, very powerful image editor and filter app. Its dial-based adjustments allow you to make more precise tweaks than apps with an adjustment slider. It features real-time, hardware-accelerated editing. It has one of the best non-destructive editing and layering of effects workflows on the iPhone. You can delete any single effect in the processing history — it's pretty cool!
Process is on sale right now for only $0.99. It's normally $4.99 and most recently $9.99. It's a very good app, but I think ten bucks is expensive for most iOS photo apps. If you've been curious about the app, 99¢ is a great price point to introduce yourself to this app.
The workflow is powerful, yet very easy to pick up. There are plenty of filter presets and it's easy to create your own. That's one of the many great features of this app. And few photo apps give you the level of precision to make adjustments that Process does.
One of the complaints I have about the app is that the latest version is less stable than other photo apps. It has a tendency to crash more often than average. Hopefully, stability issues will be addressed and a one dollar purchase gets you into the upgrade path.
While I believe that iOS app developers should show a profit from their work, I think Process is normally priced way too high at this juncture in the App Store, especially compared to other photo apps available. So, grab it now while it's on sale. This discount is for a limited time only. Once you have it, Process is a great app to easily explore, create and save your own photo effects.
Requirements: Compatible with iPhone 3GS, iPhone 4, iPhone 4S, iPod touch (3rd generation), iPod touch (4th generation) and iPad. Requires iOS 5.0 or later.
=M=
..
~~~~
UPDATE: Fixed a sentence. I think ten bucks *is* expensive for most iOS apps.