Home » Reviews
Photo App Review: Zitrr Camera Lands With a Resounding Meh
Zitrr Camera
Version reviewed: 1.0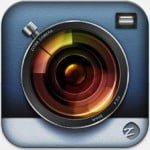 Bottom Line: I don't like it. A good camera module crippled by medium resolution and an underwhelming filter set.
Who is the PR firm behind Zitrr Camera? They are getting some awesome buzz from several other established websites. It's been called a lot of great things, including competition to Camera+
Is Zitrr Camera the second coming of iPhonegraphy? Not by a long shot. It's not a terrible app, but keep reading to find out why I think this app is way overhyped. >>>
As mentioned here and in a previous review for a different overhyped photo app, one of the reasons we test hands-on every app we review here on Life In LoFi is because you can't always rely on the App Store descriptions (and sometimes App Store reviews) to be completely honest or to tell how an app is really going to work in the hands of an iPhoneographer. Websites that simply copy-and-paste a pressie under the guise of a review are doing their readers a huge disservice by not fact-checking the developer's claims. Granted, most photo apps are only $1-$3, but it adds up when you buy a lot of them and if you're using a "trusted resource" as your basis to purchase the app, it's much better that you are given an accurate, unbiased picture before you buy.
Zitrr Camera is not a terrible photo app. I just don't think it lives up to its hype machine. It puts itself in the same league as Camera+, Camera Awesome and ProCamera. When comparing this app to those great established ones, I think Zitrr Camera falls way short.
Zitrr Camera does have some great features including a clean shooting interface. The camera is easily accessible from nearly every screen in the app — a convenient touch. Separate focus and exposure targets are easily toggled with a two finger gesture or a center screen tap. The targets are very easy to set and move. They are nicely responsive.
The camera is loaded with tools that are easily accessible and don't clutter up the viewfinder. The app has an excellent selection of composition grid overlays, including Rule of Thirds and Golden Ratio. There's a great selection of shutter release modes including timer, big button, and anti-shake. There's also a convenient horizon level that's easily toggled on or off. The camera only supports portrait orientation. None of the tools and buttons rotate for landscape mode. That's an irritating omission for those of us who really love landscape mode.
In shooting mode, the app has a number of filters, effects, and lenses all with live preview. Many of the filters are good although not outstanding. They consist of a lot of color tweaks or retro film re-creations. Each filter has a frame that you're stuck with. There's no way to turn it on or off like Instagram and many other photo apps.
I'm not a fan of most of the filters in the app's Effects and Lenses categories. I found most of the "Effects" and "Lenses" to be underwhelming, although I thought a few of them were well-done and useful. Haze adds a nice dreamlike Orton effect to your images. The Sketch effect does a pretty good job of making your image look like a charcoal drawing. The Toon effect is an interesting high-contrast, posterized black & white effect. Most of the lens effects, however, are of the cheesy, funhouse mirror variety. Other's are just bad.
What bothered me the most about the in-camera effects in shooting mode — the Filters, Effects, and Lenses — is that you can't stack effects while shooting like you can in many other photo apps. There is no way to apply a color filter, then stack another effect or a lens effect while shooting.
Zitrr Camera saves images to its own internal lightbox. Usually this is a workflow that I like very much. It helps reduce clutter in your iPhone's camera roll. So far, the app holds its own with the big all-in-ones.
But Zitrr camera uses an unusual lightbox arrangement. There's no way to edit any of the camera effects once images are saved to lightbox. Editing the image in lightbox opens up a ubiquitous Aviary image-editing module that's found in dozens of other photo apps. Aviary is an excellent image editor, but there are absolutely zero filters here that are unique to Zitrr. Unlike the smooth integration the Aviary module has with some other photo apps, it just feels tacked on and disjointed here.
Lightbox has a frustrating bug. Simply opening the image to edit in the lightbox creates another copy of it whether and not you make any edits to it. This bug is incredibly sloppy and frustrating and leads to lightbox clutter very quickly. Camera+ and Camera Awesome don't have this problem.
Zitrr Camera only supports 2.8MP saves on an iPhone 5 — that's 1920×1439 pixels. Once you save an image from the app's lightbox to your iPhone's camera roll, most EXIF data including Geotags is stripped out. To play with the big boy apps, the first thing you need is full native resolution on the device you are shooting on. Camera+, Camera Awesome, ProCamera all support both native resolution and EXIF data. Zitrr Camera does not support High ISO low-light mode on the iPhone 5. All of the other high-end camera replacement apps do.
Shot to shot time is pretty fast, about two shots per second. That's to be expected because the app is not processing the full 8 megapixels of an iPhone 5.
Zitrr Camera has a very good but incomplete toolset when compared to the other big camera replacement photo apps. It has a good interface and with the exception of a few bugs has a good workflow.
Its filters and effects are not original nor are they outstanding. The lack of full resolution and EXIF data support is inexcusable, especially when it wants to be compared with Camera+, Camera Awesome, and ProCamera.
There is room for improvement in Zitrr Camera and the developers seem eager to improve the app. But this first release is better in print then it is on my iPhone 5. It is not 'the only photo app you will ever need' as the App Store description would like you to believe.
Zitrr Camera is introductory priced at $0.99. Requirements: Compatible with iPhone 3GS, iPhone 4, iPhone 4S, iPhone 5, iPod touch (4th generation), iPod touch (5th generation), iPad 2 Wi-Fi, iPad 2 Wi-Fi + 3G, iPad (3rd generation), iPad Wi-Fi + 4G, iPad (4th generation), iPad Wi-Fi + Cellular (4th generation), iPad mini and iPad mini Wi-Fi + Cellular. Requires iOS 5.1 or later. This app is optimized for iPhone 5.
=M=
••••
~~~~