I've got literally thousands of photos taken on my iPhone. Trips, parties, pet photos, landscapes. One of the quandaries is what to do with them. I can email them, make some collages, apply some filters, but sometimes I'd like something more.
FotoMagico 4 for Mac OS has been that answer for me. It's a $99.99 app that has dropped from the $140.00 which was the version 3 price. It may seem a bit expensive, but the truth is nothing quite does what this app does.
Features
What does it do? It makes slide shows. Yes, iMovie can do some of this, but not as easily, or as elegantly. And there're some iPhone apps for this, but not with this incredible control or range of features. You import your photos from an iPhoto album, or from Aperture, Lightroom, or just a folder of photos. Choose some music, type in some titles if you wish and FotoMagico goes to work. With one click, if you like, the app will conform the music to your slide show. But most people will want to have more control, choosing fancier title animations from the dozens offered, deciding which transitions look best, and where to put them. You can add narration, or sound effects. When you are done, you can upload your work to YouTube, Vimeo, your iPhone or iPad, your AppleTV, or you can just save it and watch on your QuickTime player or the built-in player the app provides. When you choose the device or service, the app will automatically make some decisions about the best specs to match where the video is going.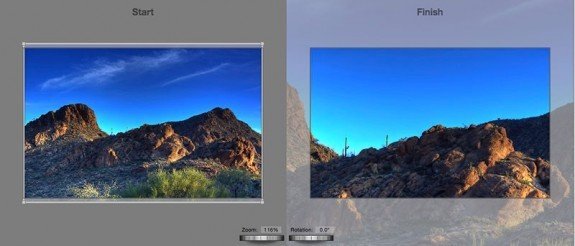 The workflow is easy, but the results can look very professional, and indeed many professionals use it. You can even insert movies inside your slide show, so no restrictions on video. When you import audio, from iTunes or simply dragging an audio file into the app, you can see the waveform, which lets you match sounds to punctuate audio.

I've used that app for presentations because it goes beyond what Apple's Keynote can provide. It's designed for slideshows, not something I have to adapt to work.
If you want to get down to making detailed changes, there is a lot of power in FotoMagico. Titling is a good example. Type your text, then animate it by showing where the title starts and where you want it to move. The text can change sizes, colors, or even rotate as it dissolves out. You decide the duration the title is visible, and the effect when it leaves.
FotoMagico is not an inexpensive program, but it works along side your iPhone photos beautifully. You can create a slide show just right for showing on your iPhone, or send it to others. Or, if you want to create a higher quality DVD or even an HD quality presentation, there are no barriers to doing that.
Using FotoMagico 4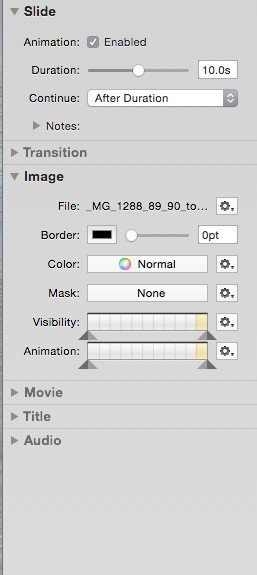 Using the app it appeared to be mostly bug and glitch free. I did have to refer to the help system a couple of times, but the information I needed came up quickly and was relevant to my search. The only oddity I saw was that FotoMagico could not find my iTunes library which I run on an external disc. It seems my Mac should have given FotoMagico a working link, but it didn't so I simply dragged the music file in. I couldn't find anything in the app preferences that let me set the path correctly. I did find a workaround, and that was dragging my iTunes folder into FotoMagico, and now all my music properly appears.
I did a quick slideshow using the automatic mode and I thought it worked well. All I did was add a title, and the app suggested a nice animation and all the transitions. I could have made it all much fancier but wanted to see what the simplest option provided. You can see my sample on YouTube.
The Bottom Line
FotoMagico is not an inexpensive impulse purchase, but it makes slide shows and does it better than every alternative I've seen. If you have a lot of great photos that need a compelling presentation, FotoMagico is for you. It's available online from developer Boinx Software or in the Mac App Store where it gets rave reviews.
FotoMagico 4 is Mac-only and requires Mac OS X 10.8 or later and a 64 bit processor.
App Store Link: FotoMagico 4 – Boinx Software
– Mel Martin
FotoMagico 4
Resolution and Image Quality
Expensive, but better than other slideshow alternatives.
~~~~