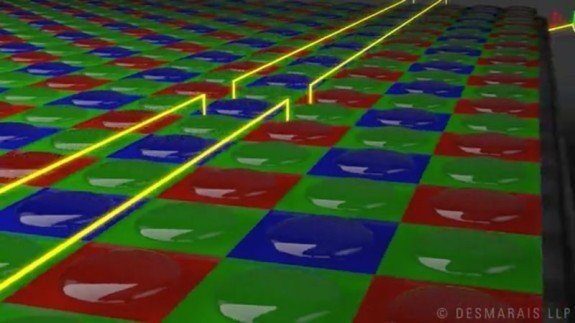 Ever wonder how the shutter in your iPhone's camera works? Photographer and animator Raymond Sirí has created an animated visualization that shows how a CMOS sensor works. It's the same type of photo sensor that's found in iPhones, iPads, and other mobile devices.
Unlike a film camera, there are no moving parts to an iPhone's shutter. So, how do digital cameras like iPhones capture a single moment in time?
Sirí created two animations which show how CMOS and CCD sensors work and how they use different means to capture an image. Both were created for a trial against Canon Inc.
A CMOS (Complementary Metal–Oxide–Semiconductor) active pixel sensor (like the one in your iPhone or iPad) moves down the sensor, capturing pixels one row at a time. The video illustrates how this "rolling shutter" effect works. In iPhone photography, this effect may show up as a distortion in moving objects. If you're lucky, it can look pretty cool — see my sample image above.
Here's the visualization he created showing how a CMOS sensor works;
CMOS Animation Sequence from Raymond Sirí on Vimeo.
On the other hand, a CCD (Charge-Coupled Device) sensor captures the entire image at once — more like analog cameras. These are usually found in higher-end cameras. Here's the video he created that shows how CCDs work.
CCD Animation Sequence (Full HD 15-25Mbps) from Raymond Sirí on Vimeo.
Via raymondsiri.com and Petapixel