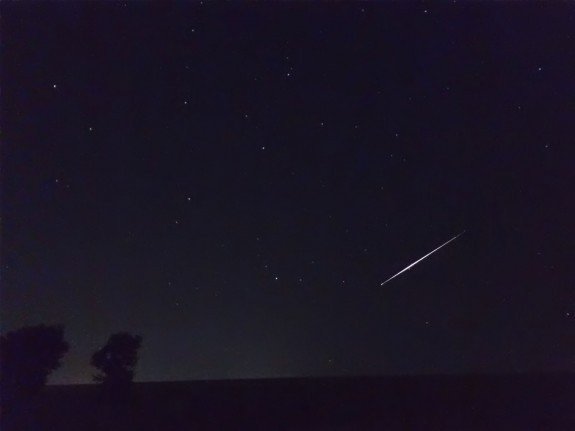 Right now, the annual Perseid meteor shower that's wowing pro and backyard astronomers with up to 100 shooting stars per hour. The 2015 meteor shower is one of the better ones in recent years as there's no moon in the sky to obscure stars and meteors.
While photographing any celestial objects in the night sky usually requires specialized equipment and light-sensitive cameras, you're not out of luck if you want to shoot a meteor or two with your iPhone.
Recent iPhones such as the 5S, 6, 6 Plus as well as other smartphones like the Samsung Galaxy S5 have cameras that can capture images such as stars, meteors, and other nighttime celestial objects in very low light situations. You won't likely capture a crisp, detailed image worthy of the front page of Space.com, but with a little preparation, you'll be able to use your iPhone (or other smartphone) to capture some good-looking meteor photos that you can share on Facebook or Instagram.
You'll need a few things first:
An app that lets you take long exposures. I use NightCap Pro ($1.99)for iPhone. It has several different long exposure settings and captures images at full resolution. This gives me some headroom to crop a little bit or to reduce the photo's size for a little sharpening. NightCap Pro also lets me use my Apple Earbuds as a remote shutter release.
A tripod. A real one that is pretty sturdy. Sadly, my trusty GorillaPod didn't cut it this time for me.
A way to mount your iPhone or smartphone to the tripod. Any good smartphone tripod adapter will work. I use the anycase Tripod Adapter (about $36 from Amazon.com). It's fast and easy to use. It won't scratch your phone. It works with naked or cased phones and it works on just about any smartphone that's out there.
Although you can watch and photograph the meteor shower in the city, haze and light pollution will obscure your view of the night sky and you'll miss out on all but the brightest stars and meteors — even on a clear night.
We drove about an hour and a half north of Dallas/Fort Worth to a park alongside Lake Ray Roberts to get away from city lights. We set up our cameras so that we'd be shooting over the lake. This helped reduce stray lights even further for us. While it will be difficult for most of us to completely escape an urban glow, a good rule of thumb is to drive out to where you can see the Milky Way in the nighttime sky.
The best viewing time for the Perseids this year is between midnight and dawn local time. For other meteor showers, Google ideal local viewing times.
The "radiant spot" of the meteor shower is the constellation Perseus. Look to the north for the Little Dipper and constellation Cassiopeia (a big "W" or "3" in the northern sky) and you should be fine.
Mount your camera and tripod on steady ground in a dark area. The slightest movement will cause blurring. Any stray lights may show as artifacts in your photos.
Set up your camera and don't expect to move it much. You can't predict when or where a shooting star will be seen. It's all a matter of luck. Framing your shots so you can see a little horizon at the bottom will give it scale and make it more interesting.
Leave your zoom wide open. Don't try to zoom in. Try to capture as much of the sky as possible. You can crop your images later. Don't try to "chase" the meteors. Eventually, some will fly through your field of view.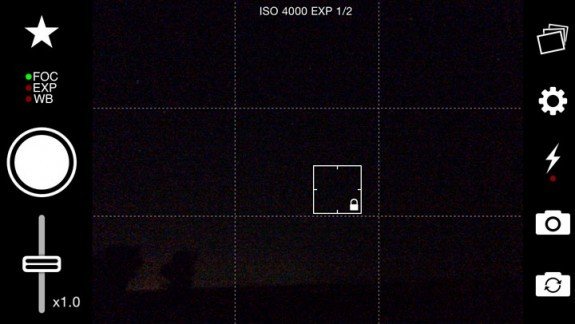 Once my rig was set up, I set Nightcap Pro for long exposure:
Lock Focus to infinity. Very important! Set the focus target for the center of your screen.
I left Exposure and White Balance settings as is.
I set the shooting mode to Light Trails.
I took 30-second exposures most of the night, one after another. You want to keep shooting as much as possible so that your camera will already be exposing when a meteor shoot through the frame. I found that if I took longer exposures, I'd start to capture star trails where the stars move slightly on the image due to rotation of the Earth.
The low-light images I captured were shot at ISO 4000 and were very grainy. Later on, I used Noiseware app on iPhone ($3.99) to eliminate the noise. It's the best I've found and it did a better job of reducing low-light noise with fewer artifacts than even Photoshop CC for desktop. Impressive!
Grab a seat and your favorite outdoorsy nighttime beverage and enjoy the show for the next couple of hours. Most of the meteors we saw were of the small, quick variety. There was the occasional "fireball" that left meteor trails. I'm certain that somewhere in Weatherford, Starman has landed….
We shot for about 2 hours. We saw a bunch of meteors — most of them were not where my lens was pointed. It was very cool nonetheless.
I took over 60 captures. In two hours, I captured 4 shooting stars. Two of those were fireballs and one of them turned out pretty good for a smartphone photo. That sounds about right. The cosmos didn't really respond to my art direction.
Find a good spot with some friends. Make a late night of it. Bring your conversation skills and have fun. Catch a falling star!
Got any other tips for shooting meteors and other celestial objects? share them in the comments below!
Download Apps
App Store link: NightCap Pro – Chris Wood
App Store link: Noiseware – Imagenomic
=M=