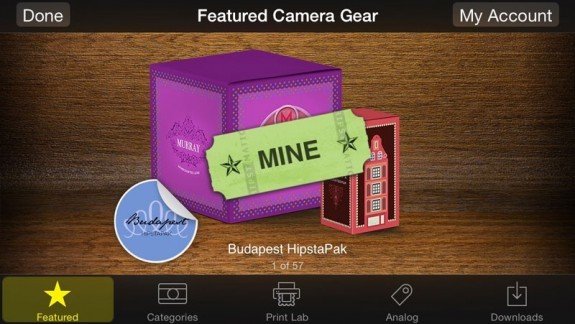 The latest Hipstamatic film and lens pak arrived a week late and the new Budapest HipstaPak is now available in Hipstamatic ($1.99) and Oggl apps.
Inspired by the city as well as the Wes Anderson film The Grand Budapest Hotel, the new pak features the new Murray lens and Tilda film — a nod to two of the film's stars, Bill Murray and Tilda Swinton.
The Tilda film adds brightness and a subtle, uneven texture. The new Murray lens picks up the warmer colors of an image. The overall effect is a vintage look with deep, saturated tones. Photos have an overall magenta or rosy cast as well as warmer tones with a slightly washed-out (washed-in?) look. Subtle texture and imperfections add finish and "age" to the photo.
I like the new pak and I don't regret spending the buck. I think the combination of hues, contrast and texture that this pak adds to a photo is a perfect compliment to the warm tones of late summer and early autumn light.
The new Budapest HipstaPak is a $0.99 in-app purchase for users of the classic Hipstamatic app.
On the fence about this one? Check out our gallery of Budapest HipstaPics below. Click to enlarge.
Download Hipstamatic
App Store link: Hipstamatic – Hipstamatic, LLC
=M=