Steller (free) is a well thought out story telling app for the iPhone. It creates tasteful collections of photos or photos mixed with your videos. I think of it like an electronic edition of a coffee table book that can be shared with others.
Working with Steller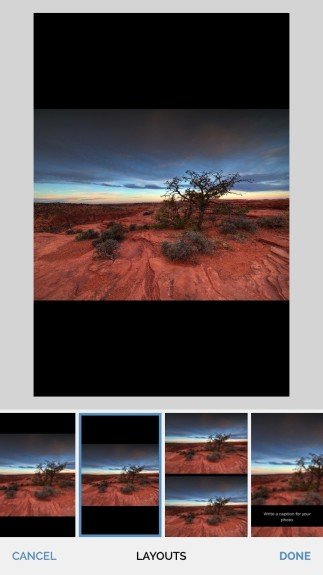 Using the app is simple. You can select from a number of very attractive themes. Add your photos and videos, then create a cover page and some pages to describe what we are going to see. Those can be full pages of text, or you can add text to a video or photo page. Within a theme are multiple layouts to pages, and photos can be minimally edited by cropping them. If you need more advanced editing, edit your photos first in another app, then save them to your camera roll for importing into Steller.
Steller has created a community, so you can publish privately or publicly and seek comments or followers. You can publish to the popular social services or you can send your stories via email or SMS. The recipient will receive a link, not an attachment. Th links download quickly.
In addition, you can select topics that are of interest to see if there are any public photo books you'd like. You can follow a particular user or topic, or just use the app for your private work that is not shared with the public.
Stories can also be imbedded on your blog or website.
The output into the finished product is very attractive. Moving between pages shows a very nice page turning effect.
Negatives
This app closely compares with Adobe Voice, which I've reviewed positively. The Adobe app offers narration, as well as music, features not offered by Steller. On the other hand, Steller has equally beautiful output, gives you plenty of control and looks very professional. Voice is more oriented toward making an animated presentation, while Steller provides a more book-like end product with video clips if you like.
The Bottom Line
I like the Steller app. Both Adobe Voice and Steller are free, so you can easily make your own comparisons. I found Steller easy to use, logical in workflow, and the finished product looked professional and something I was eager to share with others.
You can play with the app, but to share and upload you will need a free account. I read the privacy policy, and it seemed reasonable. It does not look like the company wants to send you spam ads. They will update you on new services and app highlights, and you can't turn those off. It doesn't seem like an unrealistic price to pay for the final product, which is ad and watermark free.
Steller requires iOS 8 or newer. It is iPhone only, so no iPad version. It works fine on iOS 9.3.
Download Steller
App Store link: Steller – Create Stories with Photos, Video, Text – Mombo Labs LLC