Home » Archive by Tags
Articles tagged with: Android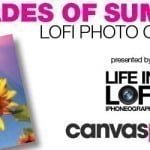 Life In LoFi and CanvasPop present the "Shades of Summer" LoFi Photo Contest. The Winner gets an 18″x24″, 1.5″ depth gallery stretched canvas (value $119) and a showcase feature on the Life In LoFi blog.
It looks like one of the other "Retro Camera" apps is getting an update this week. Retro Camera Plus from Urbian, the iOS version ported from Retro Camera for Android, got an update today not long after the update for Android hit the streets.
Dropico takes aim at Instagram. While it has some very nice features compared to Instagram, the version 1.0 release has a few problems that need to be fixed if Dropico is to try and topple the king.