Home » Archive by Tags
Articles tagged with: Purple Haze
Perfectly Clear is on sale now for only $0.99 – that's a big savings of $2 off. This discount is for a limited time only, so grab it now.
Perfectly Clear, the excellent automatic image correction app, has just been updated. Find out what's new and read why you should still have this great app even if you've got one of the spiffy new iPhones.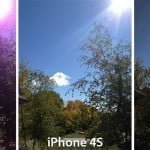 Mashable and other outlets are reporting that there may be a problem with the camera of the new iPhone 5. When pointing the camera at the sun or other extremely bright light source, a purple "haze" appears in the image around the light source.