Home » Archive by Tags
Articles tagged with: telephoto
An optical lens will nearly always give better results than a digital zoom. If you use the iPhone camera's digital zoom often, you may want to consider purchasing an external optical zoom lens. The 8X Telephoto Lens for iPhone from Photojojo is a good optical lens for a value price.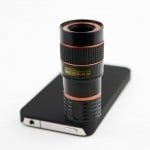 I love shopping the Photojojo store. Just about everything in there is designed to make camera geeks go "Want!". This week, my latest want is their new 8x Telephoto Lens. Announced back in February, it finally ships Friday, April 29 (iPhone 3G/3GS version ships a little later), but they are accepting pre-orders for the lens now.
Edgar Cuevas recently purchased a T-20 2.0x Telephoto Lens for mobile phone. The device works on iPhones as well and Edgar took his new toy for a test drive.