LomoLomo
LomoLomo Pro
Version 1.0
Price: Free and $0.99, with a ton of in-app upgrades
Free version (
) | Pro version (
)
Bottom Line: The LomoLomo apps do a good job of creating effects, but each effect will cost you. There's absolutely no control over the effects. There are no new effects here and no compelling reason to drop the cash for this.
UPDATE 02.22.11: I hate to leave a bad review out here. Check out my revisited review of LomoLomo version 1.2.1 here. =M=
There are a ton of Lomography apps in the App Store. Nearly all of the biggies are as good as or better at recreating the LOMO experience digitally. Nearly all do it far less expensively.
Lomography, by definition, celebrates "Happy accidents". LomoLomo and LomoLomo Pro create a lot of accidents, but take from you the level of control that true Lomography really gives you.
LomoLomo and LomoLomo Pro are two apps from MoMo Travel Consulting that claim to duplicate the LOMO experience by creating randomly filtered, analog looking images. Let me just cut to why I don't like these apps.
There is no control over the effects — lenses and films. What the app gives you is what you get. LomoLomo doesn't save your original image, only your processed one. If you don't like what the app gives you, you're out of luck. Sound a little like Hipstamatic? It is, but the big difference is that Hipstamatic gives you control over the effects by letting you set the "lens" and "film". Like their analog counterparts, if you know the characteristics of the lens and film you are using, you can use this knowledge to better control your output. The LOMO surprise is in the flaws of the film or the lens.
Plastic Bullet gives you much more variation in your images. Toy Camera is another app that creates random LOMO effects while shooting. PictureShow allows you to create "happy accidents", LOMO and a lot more random analog film and frame effects in-app by using its red random button.
LomoLomo, on the other hand, surprises you with whatever lenses you've purchased and whatever film it decides. One image may look like it came from a toy camera. The next may be monochrome. The next three may be sepia. With LomoLomo, you relinquish what little control genuine Lomography gives you. Other than giving the developers money to unlock more lenses to use, there is no control. Which leads me to my next point.
UPDATE: After writing this review, the 1.1 version of LomoLomo Pro was released. The Pro version now allows select a lens for one use only before reverting back to random. What???!!! If you're going to go through the trouble of updating this code, why not just go all the way and properly implement this feature that user overwhelmingly asked for? How hard would it be to simply add "Random" as another setting in the app's prefs? To me, the one-time only features shows less of a concern for users requests and more of an overall disdain for what users — the photographers who use the thing in the field — really want with the app. =M=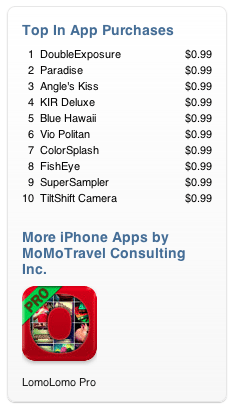 The pricing scheme is a scam. LomoLomo is free — except that to get the full variety of films and lenses, it'll cost you a total of $10 right now. But wait… there's more! If you buy LomoLomo Pro for a dollar, it contains all the "cameras" – you can complete the lens set for only an additional $5, for a total of $6. The add-ons are not as featured as Hipstamatic — for a dollar each, you only get one new effect. Camera+' new "I ♥ Analog" in-app add on filters contains nine for a dollar. You can buy the complete, excellent ClassicCAM series from misskiwi for about $6 and have a full complement of classic toy cameras, effects and an excellent array of films.
LomoLomo's effects are well-rendered, but not as unique or outstanding LOMO effects like Hipstamatic or Plastic Bullet. The apps save in square format at full resolution, but can be quickly switched to a lower resolution for speed. The skinned UI is easy to use and changes with the camera that is being used. The apps are a little on the slow side, but fairly stable.
Of the two, I think the best version is the free LomoLomo. It comes with two "cameras" — a very good Diana filter that I actually kinda like and a quad-frame SuperSampler camera. The free version comes with a few stock "lenses" that the user has no control over and cannot change. The effects are applied randomly and can be pretty jarring when used with the four-frame Action Sampler camera.
Sharking the success of Instagram, there's also a LomoLomo community that the app can upload your images to… the LOMO Wall. There are actually some interesting photos on the wall, but it's another closed photo sharing community to keep track of and the price of admission to this one can be high for an iPhone app.
In-app purchases seem to be the future of iPhone apps. I actually don't have a problem with them most of the time. They are a good, inexpensive a la carte means for users to add additional features they want to their photo apps while helping developers recoup their investment for updates and new features. But the LomoLomo apps just seem to be more of a blatant cash grab. There are too many filters to buy and not enough value for the user.
UPDATE: One more reason: Glyn Evans reports on The iPhoneography Blog of one more excellent reason for avoiding these apps. He and Patrick Timney report that the developer of these apps are the same people, different company name behind the Molinker apps scandal a year ago. Read Glyn's entire post here.
—
App Store links:
LomoLomo
LomoLomo Pro
=M=
~~~~