Home » Reviews
iPhone App Review: Halftone [UPDATED]
Halftone
Version 1.0
Price: on sale for $0.99
Bottom Line: Creates great looking old, pulpy, comic book style style effects, but saves images at low resolution only good for online sharing.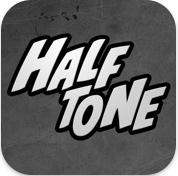 UPDATE: According to the developer in the App Store description,"Higher resolution support is already planned for the first update." Based on this, I'm upgrading my review of the app from two and a half to three stars for now and will revisit my rating when the update with improved resolution is released. =M=
I grew up before there were graphic novels. Back when I was a kid, we had comic books. I still have my collection. The printing was horrible. The halftone dots used to create all the colors from the four printing inks (cyan, magenta, yellow, and black) were huge and highly noticeable. The paper was horrible and acidic and seemed to yellow and age from the second I left the 7-Eleven.
Halftone is a new app from Juicy bits that recreates the pulpy, aged, halftone feel of old comic books. And, that's about it….
Halftone has nine paper styles, from crisp and clean to distressed and aged. There are two different caption styles, including one with a large initial character and a gradient background. The app has nine different layouts and the ability to use any installed font as well as an additional, comic book-like embedded font called Digital Strip. It's a great looking comic book font that thankfully bears almost no resemblance to the overused Comic Sans.
There are no settings. Take or load a photo, process and share. Paper styles, layout and type can all be easily changed after the photo is loaded. Images can be saved to your photo library, emailed, or shared to Facebook from within the app.
Halftone ages your image, jacking with the contrast and 4-color process saturation. It doesn't convert your image into a genuine halftone but adds a visually pleasing halftone rosette overlay. It also adds a comic book border and lets you add captions to the frame. The result is a great looking, nostalgic comic book image that looks like it was printed on lousy paper with an old, lousy web press from the 60′s or 70′s and then left to sit in the attic for a couple of years.
It's a fun app that creates one style of image and does it well. The paper textures look authentically aged and stressed. The blown out highlights and darkened, oversaturated shadows look like ink that had soaked into bad, pulpy newsprint paper stock.
But Halftone is limited. There are a lot of halftone styles that this app doesn't recreate, such as old newspaper or the famous colorful Roy Lichtenstein look. Version 1.0 doesn't support high resolution, saving images at a low 1 megapixel – 1124×865 pixels or 900×900 px square format, which works for emailing and sharing online, but is too low to make any decent-sized prints or enlargements. There are only the two areas for text — there's no way to change text placement in the layout other than on or off. The app doesn't save your original full-size images, so I suggest importing images from your photo library only.
Although there are other halftone and comic apps, none of them create the pulpy, aged comic book look as well as this one. The images Halftone creates look great, but it needs at the very least higher resolution before it's ready for anything other than emailing or posting online to Facebook, Flickr, etc. If online sharing is all you do, then this app should work great for you.
Despite my 2-1/2 star rating, I like the app in a takes-me-back-to-my-childhood kinda way. Higher resolution would bump my rating up at least one star. Different, pulpy halftone styles would also be a welcome, although not necessarily essential, addition as well. I'm looking forward to updates.
Halftone is compatible with iPhone, iPod touch, and iPad and requires iOS 3.2 or later.
=M=
~~~~