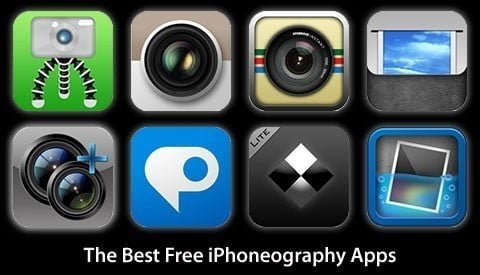 Over a year ago, I wrote two stories about The Best Free iPhoneography Apps: Camera Replacements and Image Editors. Since those two stories were first posted, a lot has changed in iPhonegraphy. The iPhone is now on iOS 4.2 (soon to be iOS 4.3). Two versions of the iPhone 4 have been released and these devices have much greater resolution and a much better camera than those of a year ago. The iPod Touch 4th Generation now comes with a camera. Several of the apps originally listed are no longer available or break in the latest versions of the iOS.
Currently, many free versions of the apps are try-before-you-buy versions of their commercial siblings. Many are very feature limited or save at unusably low resolutions.
However, there are still some great free photo apps in the App Store. Some of these apps are ad-supported. Some save in usable but not full resolution. None of these apps add an obstructing watermark. All of these apps are very usable and are normally free. Apps whose price is temporarily reduced to free are not included here.
For no investment other than bandwidth and download time, you can improve your iPhone's camera and get some impressive looking photographs. While not complete, here's my list of the ten best FREE iPhone photo apps currently available in the App Store.
Got any free photo apps that I may have missed? Add your faves in the comments below.
Camera Replacements
Gorillacam is the free camera replacement app from Joby, creators of the excellent Gorillapod flexible tripods for iPhone. It has several unique features that make it worth a look if you don't have a camera replacement app.
GorillaCam has a good rule-of-thirds grid overlay, Big Button full-screen shutter, full resolution digital zoom, and a good anti-shake stabilzation — all features I consider essential in a camera replacement. One of its cooler features is a press-and-hold shutter button, which takes rapid, continuous full resolution photos at up to an impressive 1.6 frames per second. Images save in the background and a popup tells you not to quit when the app is still saving images. The app also features 3-shot burst mode, countdown timer, time-lapse photography with up to 2 minute intervals, and other features. Almost all of Gorillacam's features can be toggled off or on. It saves photos directly to your camera roll in your device's full resolution.
It's not perfect. Gorillacam doesn't support tap to focus. It doesn't support front camera or hardware flash. You need to manually keep your iPhone awake or change your sleep setting when doing time-lapse photography. Background saves are slow and you can't quit out of the app without losing images until they are all saved to your camera roll. It does not save detailed EXIF data.
When shooting, I found the app to be fast and responsive. I like the press-and-hold rapid fire shutter release. For shooting multiple images, Gorillacam is impressive. Although it's starting to show its age, it's still a usable camera replacement.
—
Camera Plus by Global Delight is not as full featured as Gorillacam, but it's a good, low-frills free camera replacement app (Update March 2015: Since this post was first published, the price of the base version of Camera Plus has gone from free to $1.99.). This version is a loss-leader with the hopes that you'll buy their Camera Plus Pro with its many additional features.
Camera Plus takes advantage of all the latest iPhone and iPod Touch 4th Gen hardware, including tap to focus, front camera, and hardware flash. The app's built-in toolbox is minimal but features built-in exposure enhancement (simulated flash), black & white conversion and built-in crop. The exposure enhancement produces good results — not up to par with the better dedicated, paid apps, but one of the best"flash" among the free apps and certainly better than many of the paid apps in the store. You can access your iPhone's camera roll to crop existing images and convert them to black & white.
It supports your device's full resolution and saves some EXIF data, but not geo-tag information.
Camera Plus can also record short video clips on iPhone 2G and 3G — devices which don't ordinarily support video
The app has a poor digital zoom which is really just in-app cropping, which means that your zoomed images will be pretty small and mostly unusable at higher magnifications, but using the zoom at 2x or less should get you images that will work for MMS, Facebook or Twitter. Images do not save in the background so saving your photos is somewhat slow — a few seconds with Auto-Save setting turned on.
Camera Plus has features that Gorillacam lacks, especially support for newer iDevices, making it one of the best free camera replacement apps available.
Image Editors, Utilities, and Filter Apps
After Snapseed's developer was acquired by Google, I'm happy to see any updates released for this app, even if they are just bug fixes and iOS maintenance updates. Snapseed is free and one of the more powerful photo editors for iPhone and iPad. Once you get used to its tools, you can quickly and easily make powerful image corrections and add striking effects to your image. Snapseed has one of the more precise cropping tools available for iPhone which doesn't "jump" nearly as much as some other apps when you move your finger across the small iPhone screen. It also has a very nice Straighten tool that lets you make fine horizon adjustments up to +/- 10°.
—
Retro Camera Plus by Urbian is inspired by old LOMO, Holga, Diana and Polaroid cameras. It made quite a splash in the Droidography community when introduced and has now been released for iPhone as well.
This square format app creates excellent retro camera effects with accurate color processing. It adds great vignettes, noise and film scratch effects. Most of the "cameras" can shoot in color of black & white and are easily switchable from the camera "case". Each camera has a distinct and well rendered border.
The app supports hardware flash, but only saves images at 1200×1200 pixels — usable, but not high resolution, and it only saves a processed version of your photo.
Retro Camera Plus is ad-supported. Its effects are among the richest, best textured effects of any free app available in the App Store. It's an excellent free toy camera app.
—
The old Vint B&W app was a simple black & white camera app for your iPhone that created some of the nicest black & white images on the iPhone. While it still works on an iPhone 4 in the latest iOS, it hasn't been updated in quite some time. Simply B&W is not only a simple camera app, but you can also import existing images from your camera roll — a feature that Vint B&W never had.
Simply B&W has a great grayscale conversion algorithm, several color filters for alternate conversion methods, and sliders bars to help fine tune the color-to-grayscale conversion with results that are on par with Vint B&W. With minimal fuss, Simply B&W quickly creates rich, great looking black and white photos.
—
With the names Adobe and Photoshop in the title, you would expect Adobe Photoshop Express to be an image editing juggernaut… the mack-daddy of image editing apps for iPhone. It's a good app, but it's not the editing powerhouse you expect. PS Express is fast, stable very usable and like many apps in this list, better than many commercial apps that do the same job.
Updates have given the app a quite usable feature set and some good filters. There are basics like crop, rotate and flip. PS Express performs these tasks quickly and easily. There are basic adjustments for exposure, saturation, contrast and tint. The Vibrant filter does very nice tweaking contrast and pumping up saturation. There's a good selection of borders. The app now has sharpen and soft focus features. Within the app, you can upload and share our images to Photoshop.com.
Adobe Photoshop Express is not the only image editor you'll need, but for a free app, you'll use it a lot and it's a very good addition to your toolbox. If you overlook that it has the Photoshop name, you'll like it a lot more.
—
GreenSpot Fix [
] removes the blue-green tint in the center of a photo when the picture is taken under fluorescent lights on an iPhone 4. If you shoot photos on your 4 under fluorescent lights, you can easily see the discoloration.
There are several apps available which remove the blue-green tint from images. GreenSpot Fix does as good as or better than most. The app is easy to use. Simply load an image and select one of the nine presets. The app quickly and automatically balances out the color, reducing or removing the blue-green and red tints. In most cases, one of the presets worked great for me as is. The app saves images at their original resolution. There's no reduction in size or loss of pixels.
There's a small iAd at the bottom of the splash screen — that's all. The work screen is ad-free. This is an excellent app and an essential utility for iPhone 4 owners.
—
UPDATE March 2015: Since first publishing this post years ago, several of the apps have simply disappeared from the App Store. We'll update this post soon to find the Ten Best Free iPhone Photo Apps for 2015. Sign up for our email newsletter to get a heads up on this update as well as all the other great iPhoneography news and app reviews on Life In LoFi.
=M=
~~~~