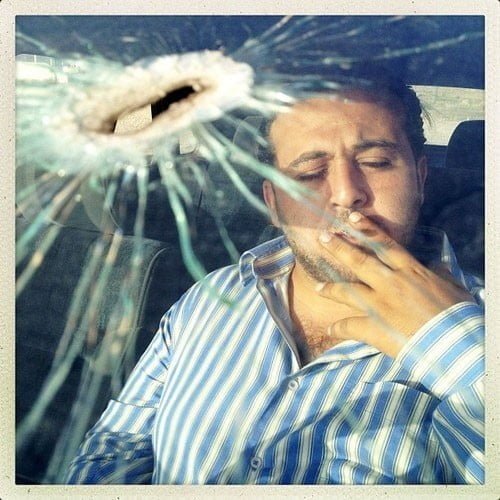 In case you missed it, here's a link to a great story and interview with conflict photographer Ben Lowy over on Storyboard. Along with photographer Damon Winter and others, Lowy is making waves throughout photojournalism by not only using his iPhone as his main camera, but shooting his stories with Hipstamatic. In fact, a photojournalism-inspired lens bearing his name is set to be released in Hipstamatic later this year.
Last October, New York Times Magazine published a photo story, "Life During Wartime" , a photo story shot by Lowy about everyday life in wartime Kabul. Currently, Lowy is in Libya, documenting everyday life and the country's growing pains in the aftermath of Gaddafi's overthrow, shooting his project with his iPhone, Hipstamatic, and the still-in-beta Lowy lens.
The Storyboard article is a great interview. Rather than resist or shun the iPhone like many other journalists, Lowy shares why he embraces it. In the story, we also get a preview of the new, upcoming Lowy lens for Hipstamatic, which Lowy used to shoot the images. According to another interview on Poynter.org, Lowy says of the lens,
"I thought turn back the saturation a little bit, have the clarity up, a little bit of a grain and some contrast, but not enough that you lose the highlights. I found that a lot of time, you lose the highlights with an iPhone. And that's it except maybe a slight vignette."
It's a great read and Lowy's photography is powerful, sometimes funny, sometimes a little unsettling. Click to read the entire story, "Capturing Libya: Through a Hipstamatic Lens" by Jessica Bennett on Storyboard.
=M=
~~~~
Big thanks to Mikkers for the heads up on this one. =M=
UPDATE 01: Clarified the Hipstamatic lens used to shot the images. =M=