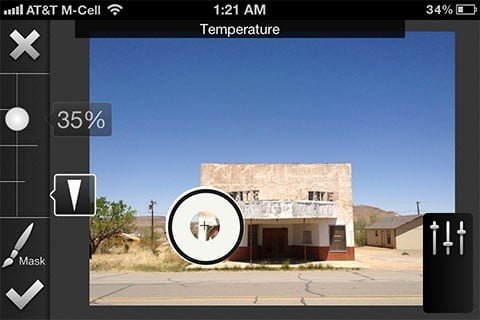 iPhone image editing app Filterstorm is already one of the most powerful photo apps in the App Store. Filterstorm redefined how iPhone image editing apps should function. Rather than try to adapt its powerful toolset to conform with previous user interface design standards, it reinvented the image editing app UI to take advantage of the iPhone's limited screen real estate. Although there have been a number of other powerful image editing apps that have been released or improved, I still think that Filterstorm sets the standard and redefines how image editing apps should work on the iOS platform.
A new Filterstorm update has just been released. It's on sale now today only for $1.99 — that's a big savings of $2.00 on one of the best, full-featured image editors in the App Store. It's also my go-to image editor. Read more about the update after the jump, including a bug alert in the Gradients tool. >>>
I've previously reviewed Filterstorm several times, most recently in this post here.
The new 4.5 update has new features, an improved user interface, bug fixes, and a bug or two you should know about before you upgrade the app. The full list of new features is at the bottom of this post. Here are some of the highlights.
New Interface
While I didn't have any problems with the old interface, the new interface streamlines things a bit by combining toolbars and cleaning up the work area. tools, sliders and checkboxes are combined and flyout menus are used to help declutter the screen. Although the sliders are a little smaller, especially in landscape mode, they're still easily grabable and even seemed to work a little better for me than in the previous version.
New Improved Layers
Not documented in the App Store description, but Layers, one of the app's unique and powerful features, has also been improved for ease of use and greater functionality. Along with the Create New Layer button (which in the previous version led me to frustratingly duplicate the active layer most of the time) there is now also a new button that imports an image to a new layer. It's a great feature that now makes Layers work like you'd expect. I was importing images and masking layers in seconds using a minimal number of taps. Intuitive and easy.
Make Canvas Square Ready
A new Make Square button in the Crop tool quickly converts the canvas to square format. It adds solid white matte bars to the top and bottom or sides of an image if it isn't already square, making for a more attractive option than Instagram's default black matte bars. Unfortunately, there are no options, no cropping control and no way to move or position your original image. The new feature is not bad, but for converting to square format, I'll be sticking with the far more versatile Squaready app which gives me much more control over the conversion.
Gradients Bug in 4.5
Reports of the gradients not working in this update have already popped up in the App Store (thanks, Unruly-e). I was able to confirm myself that the Gradients in the Layers Masking are a little bit broken. For me, they worked unreliably in several ways, either not showing the correct position when previewing or sometimes not even working at all. Most of the time, it was impossible for me to get accurate positioning of the two terminus points. If you use the Gradients tool, consider holding off this update until this gets fixed.
Otherwise, Filterstorm 4.5 is a solid update to this excellent image editing powerhouse.
Filterstorm is normally $3.99 in the App Store. It's on sale through today, Sunday, July 29 for only $1.99. Requirements: Compatible with iPhone, iPod touch, and iPad.Requires iOS 4.2 or later.
Two bucks is two bucks. If you like this app and this deal, please share this post on Facebook, Twitter, and Google+1 so that more iPhonegraphers can hear about this discount. Thanks!
=M=
..
What's New in Version 4.5
Features
• New Interface
• Works much better in landscape on iPhone
• Improved right-hand interface option.
• Added button to quickly make the canvas square.
• Added ability to hide filters from list.
• Improved performance on the new iPad
Bug Fixes
• Fixes 2 possible crashing issues with cloning
• Fixes Job Title IPTC Field
• Fixes issue with filter previews when image is zoomed in
• Fixes issue with history disappearing
• Other fixes
~~~~