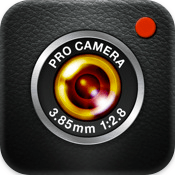 Right before the App Store holiday this week, my favorite camera replacement app got a big full version update. ProCamera 4.0 is out now and it is a major update to this workhorse camera app.
The new ProCamera 4.0 has over 15 new features. Most are big new features to the app, not little bug-fixes. They really improve significantly how you work with the app. All the new features are seamlessly integrated and add no clutter to the main areas of the app. The user interface is still clean, fast, and easy to use. This is an impressive update.
There are plenty of new features to enhance not only how you shoot, but how you shoot it. Here are some of the significant new ones. A full list of the update is tacked onto the end of this post.
ProCamera now offers shooting in several aspect ratios. In addition to the standard 4:3 of most cameras, you can now also shoot with 16:9, 3:2, and square 1:1 formats. They are easily accessed by tapping through the aspect ratio options in the flyaway onscreen menu. Hidden until you need it, but one tap away. It's another great design detail and one reason I like ProCamera so much.
For those who like the Lightbox workflow of apps like Camera+ and Camera Awesome, ProCamera now has its own optional Lightbox, which will please users of both workflows. The ProCamera Lightbox is off by default so the app still saves straight to your camera roll. Once enabled, ProCamera will save images directly to its own Lightbox instead, requiring you to export finished images to Camera Roll for archiving, access to other apps and other uses. I sometimes like a Lightbox workflow to help keep the clutter down in my main camera roll. Lightbox lets you quickly access images for editing, but all edits are non-destructive. Unlike Camera+, ProCamera saves a new copy of each image when you save back to its Lightbox. This may add to clutter, but it also lets you easily go back to earlier versions of a photo.
ProCamera has such a fast shot-to-shot time, any Lightbox benefits in increased performance are negligible. ProCamera's fast shot-to-shot time is still at least two full resolution shots per second with an iPhone 5.
ProCamera's built in editing studio gets a new Tone Curves tool. Anyone who regularly uses Photoshop will be right at home with this new tool which lets you gradually adjust overall and individual R, G and B color levels. The new curves tool is large enough for my big fingers and very responsive. Adding points to the curve is as easy as an onscreen tap. Tone Curves is a powerful tool for adjusting contrast and color. ProLab's other editing tools have received improvements in this update as well, and the new image editing Histogram can fly out on demand and remain onscreen while you work with other tools.
ProCamera now has in-app Instagram support, including a non-destructive SquarePrepare feature that lets you easily create a square crop just for the Instagram export, leaving the original crop intact.
You can now easily take still photos while shooting video. The camera icon near the video shutter release lets you save what is essentially a video screen grab. On an iPhone 5, that image is 1920×1080 when recording in 1080P mode.
Getting from the settings to the album to the camera has gotten a lot simpler in this new update. I really like the new QuickFlic feature which lets you swipe onscreen between the three screens. It saves a second or two with each gesture and is a lot easier and more natural on iOS.
One feature that's been removed from this update is the Volume Shutter. This feature was removed at the request of Apple. This has been ongoing for some time. I've been on the inside of this exchange and it's frustrating to watch. Yes, the feature is still available in other photo apps for the time being. There are serious discrepancies in Apple's app approval process.
There's a lot more in this new update. It's an excellent update with many new big enhancements, but it does so without cluttering the user interface that ProCamera is known for. The new features do not sacrifice speed or performance. The app is still one of the fasted camera replacements in the App Store.
Even with all of the recent new camera apps, I still come back to ProCamera. It gives me the power-user tools I need to shoot great photos and gets me shooting them quickly so I'm less likely to miss the shot.
This is an exciting new update for ProCamera. Once again, it builds on all the strengths of what makes the app a great shooter.
ProCamera is normally $2.99. It's on sale now for only $0.99 for a limited time. Requirements: Compatible with iPhone, iPod touch, and iPad. Requires iOS 5.0 or later. This app is optimized for iPhone 5.
..
Here's What's New in ProCamera Version 4.0
Photo:
+ Capture formats (16:9, 4:3, 3:2, 1:1) for photos.
+ New ProCamera Lightbox to save, share, export or delete photos within the app.
+ New Library and Album enables: full support for photo stream and any updates in real-time; long press to copy to clipboard; super-zoom at full resolution; both landscape and portrait support; and multi-select and multi-share support.
+ Fine-tuned exposure and focus control: Now you can set focus and exposure with two fingers at the same time (in simple and expert modes).
Video:
+ VideoSnapshots: Take photos WHILE recording a video or in video mode.
+ Video upload to DropBox.
+ Video metadata viewer.
Photo editing:
+ New Pro Lab editing tools including:
+ Tone Curves tool with RGB and single color channel correction
+ Live histogram for accurate editing
+ New and improved adjustment sliders including Brightness, Contrast, Gamma, Saturation, Color temperature, Shadow and Highlight correction, Red, Green, and Blue
+ Improved and new effects in Pro FX.
Sharing:
+ Instagram sharing (with unique SquarePrepare).
+ Multi-Multi sharing (share multiple pictures to multiple networks with a few taps).
Usability, Stability and Performance:
+ QuickFlick: flick right for Albums, flick left for Settings.
+ Simplified settings for quick (-flick) access to the most important settings.
+ New code architecture brings 100% stability and a blazing fast performance and startup time.
~~~~
ProCamera 4.0
Resolution & Image Quality
An excellent update with many new big enhancements, but without cluttering the clean user interface that ProCamera is known for. The new features do not sacrifice speed or performance. ProCamera gives me the power-user tools I need to shoot great photos and gets me shooting them quickly so I'm less likely to miss the shot.