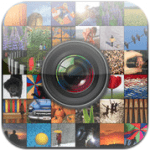 Here's a cool photo app that not only gives you some structure in your shooting, but also teaches some great tips and techniques for creating better photos.
iPhotography Assignment Generator is a combination photo assignment app and photo classroom on your iPhone. We've got a few copies to give away. Keep reading to find out how you can win one. >>>
This is the iPhone-focused sibling app to the Photography Assignment Generator for SLR shooters. Its assignments and tutorials have been tailored for iPhoneographers. The app has over 75 individual assignments and thousands of potential random ones. Assignments range from the rules of composition, creative shooting techniques, photographing people, landscape and nature, and more. There's a scavenger hunt assignment that gives you lists of things to shoot with your camera. Each assignment has a series of example images to demonstrate the technique or to inspire. Sometimes structure, 365 projects and scavenger hunts are good to help get the creative juices flowing. And by using the techniques shared over the course of the lessons, beginners can pick up a lot of valuable knowledge and shooting experience.
iPhotography Assignment Generator is $0.99 in the App Store. Requirements: Compatible with iPhone, iPod touch, and iPad. Requires iOS 5.0 or later.
For more information on the app, check out the learnphoto.ca website.
iPhotography Assignment Generator Giveaway
Today, I've got several promo codes for iPhotography Assignment Generator to give away. To be eligible to win a copy, simply enter the giveaway below. If you follow us on Facebook and Twitter, you'll have additional chances for a free copy.
Cut-off time to enter is 11:59 PM Eastern Time, Friday, February, 2013. Winners will be determined by Random.org. One code per reader, please.
Winners will be notified by email, Facebook message or Twitter direct message — be sure to check your spam filter. If you enter, be sure your email info is correct or your code will go to someone else. Your email address is used for contest entry and for contacting the winning entrants only. We will not use or sell your email address for any other purpose.
(If you're having trouble viewing the giveaway widget on a mobile device, try viewing this page in landscape mode on your iPhone.)
=M=
~~~~
Big thanks to developer Noel Chenier for sharing the promo codes for this giveaway.