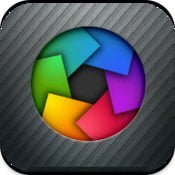 The past few months have seen some incremental feature-added updates for image processing app Process. There's a lot that I like about the app, including its modular workflow and precision toolset.
Process 4.0 has just been released. The app is on sale now for only $2.99 for a limited time. That's a HUGE savings of $12.
Keep reading for what's in the updates. Plus, I've got some promo codes to give away. >>>
Among the features that make Process a unique image processing app is its modular approach to image editing. It's similar to Photoshop's History panel, except that it's a lot easier to remove or change one single edit from the entire editing process.
Also, the app features dial-based controls for most of its tools, allowing you to perform edits with much greater precision than other photo apps.
The new 4.0 update features new incredibly sharp and accurate effect previews, blend modes, and performance and stability improvements. Previous recent updates also added new Zoom and Motion Blur adjustments, Posterize, and the ability to create your own custom sets.
Its normal price of $14.99 is steep, but not unprecedented for a high-end iPad image editor with these features — think Adobe Photoshop Touch. The app is a Universal build, so Process also works on iPhone as well. At $2.99, this update is a steal. Grab it now before the price goes up.
Requirements: Compatible with iPhone 3GS, iPhone 4, iPhone 4S, iPhone 5, iPod touch (3rd generation), iPod touch (4th generation), iPod touch (5th generation) and iPad. Requires iOS 6.0 or later. This app is optimized for iPhone 5.
Process Giveaway
I have a few promo codes for Process to give away. They are below and are available on a first-grabbed basis. When these are gone, they're gone.
http://tokn.co/eh4pzs5b
http://tokn.co/zy8zetau
http://tokn.co/tusnhzpz
http://tokn.co/vvbqkwf3
http://tokn.co/geudxann
http://tokn.co/0c7wgsva
http://tokn.co/kqy8vtdh
http://tokn.co/qngbdz36
http://tokn.co/4jr73e9t
http://tokn.co/3sqa4amc
http://tokn.co/spjm4v3r
http://tokn.co/a47fqt9q
http://tokn.co/5xn2ujmm
http://tokn.co/umaswwzd
http://tokn.co/6ahuaa2f
http://tokn.co/976ypv65
http://tokn.co/ybtrctje
http://tokn.co/f9ctyze4
http://tokn.co/bw558wh8
http://tokn.co/rde4maks
=M=
~~~~
Big thanks to Process developer Alaric Cole for the promo codes.