I cut my teeth on black-and-white film photography when I was a kid, So I have a soft spot for a good black-and-white iPhoneography app. I thought I'd seen it all until the release of Monokrom Photo Editor this summer.
There are a lot of very good things about this iPhone photo app and the developer is already working on a new update. Keep reading for my complete review. >>>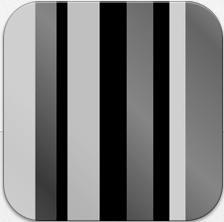 Monokrom is a super easy black and white conversion app. Like the best black and white conversion apps, Monokrom uses a color filter method for the conversion rather than straight desaturation.
But instead of using a predetermined set of color filters, Monokrom uses your entire image as the target source for the color conversion. You move a target over areas in your image until you see a conversion that you like. Monokrom picks up that color, uses it as the filter to convert to black and white, and boom! —  instant monochrome! Basically, Monokrom gives you millions of black and white conversion filters.
Demystifying the process, developer Darren Richards says, "One of the key things the orange 'puck' does is to cycle through all the hues in the color wheel and uses the resulting color as a filter – changing how r,g,b values are mixed to give luminance/grayscale."
There's also an additional slider below the image to add a little bit of tint to your image if you prefer a cyanotype or sepia look.
The interface is simple. The app is smooth, stable, and responsive. There is one target, one slider, and no settings, yet despite this simplicity, Monokrom lets you experiment and create some very nice black and white photographs.
The Monokrom workflow encourages quick and easy exploration of your black-and-white conversions. For instance, I like a deep, rich, Ansel Adams-like sky in my outdoor photographs. Monokrom lets me move and adjust my target until I achieve quickly the precise look that I want.
While Monokrom is great for experimenting, right now it's not so great for repeating. My only real issue this app is that there is no way to save presets so you can quickly recall a look and a conversion formula that you like. I've mentioned this to the developer and it's already in the works for a future update. I still like the app now, but this will be a really nice photo app when that feature is implemented.
Monokrom supports 8 MP resolution on an iPhone 5 and 4S. It retains all EXIF data in your images including Geotags.
Monokrom is a great photo app to have when the standard complement of filters just don't give you the look that you're looking for in a monochrome conversion. It's a great tool for helping create the exact black and white tones you are looking for. It's simple, easy and does what it does well. It's worth a look.
Monokrom Photo Editor is $0.99. It's a Universal app that will look great on iPhone or iPad. Requirements: Compatible with iPhone 3GS, iPhone 4, iPhone 4S, iPhone 5, iPod touch (3rd generation), iPod touch (4th generation), iPod touch (5th generation) and iPad. Requires iOS 6.0 or later. This app is optimized for iPhone 5.
App Store Link: Monokrom Photo Editor
---
Monokrom Photo Gallery
~~~~
Monokrom Photo Editor 1.2
Resolution & Image Quality
Monokrom uses your entire image to help create great looking black & white photos. It's a fast and easy workflow and the app is uncluttered and stable.
---
Disclosure: Monokrom is a new advertiser on Life In LoFi, but this review has been in the works since before the ad was purchased. This sponsorship did not effect the content of this review in any way. =M=