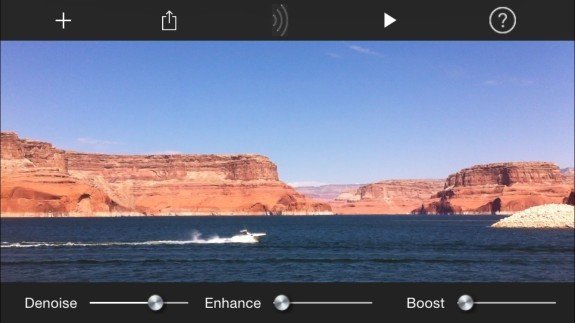 Here's something completely different. VideoSoap – an iOS app that can restore bad audio on a video you've taken on your iPhone. Most of us worry about the video, and the soundtrack becomes a bit of an afterthought.
I've taken some great videos at family gatherings, only to find the audio made the whole effort worthless. Audio was garbled, or background noise from air conditioners or nearby construction made a mess of things.
VideoSoap ($24.99), just released for iOS is an almost magical solution to the problem. Anything on your camera roll can be loaded, or you can even enter a URL to a video on the web. Sliders let you de-noise the video, enhance the audio or boost the sound quality, particularly in the bass. If you're like me, and have a collection of badly recorded audio on your videos, VideoSoap could be a worthwhile answer to your problems.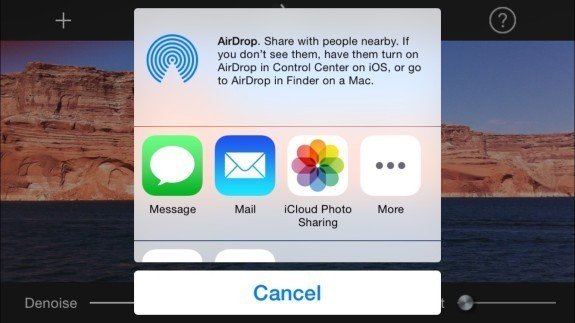 Using VideoSoap
I loaded a couple videos from my camera roll and had some problems right away. None of the videos showed up on the VideoSoap import menu. Silly me. Since I've switched to iCloud storage, the videos are now in the cloud. It's simply a matter of holding your finger on the icon of the video, and a menu appears, one option of which says 'copy'. Tap that, and the video will be downloaded to your camera roll.
From there on, things are easy. Just play the video in real time and use the sliders for the desired effect. The de-noise routines are very good. I was able to clean up wind noise at a pool party without losing the voices. For testing the Boost mode, I played some music over my desktop speakers while I stood a few feet away. The music sounded pretty awful, but using the sliders I was able to restore the music to where it was quite listenable. The enhance mode did the least for the video samples I had, but it did seem to make the high frequencies better, without adding to any background noise. The app also features some anti-clipping technology that tames audio that was recorded too high. I had some video I shot aboard a speedboat on Lake Powell. It was mostly loud distorted noises. I could easily tame it with VideoSoap, and the video was now worth sharing.
The Bottom Line
VideoSoap is a very sophisticated app with a lot going on behind the scenes. It's not just clipping frequency extremes, which would make your audio sound like an old AM radio with a towel stuffed into the speaker. VideoSoap actually improves what's there.
While working on your video, you can scrub back and forth with your finger, and at the end, the video repeats, which is a well thought out feature.
When your restoration is done, you can save your video to your camera roll, Facebook, email it or send via messaging, or use AirDrop.
VideoSoap isn't a 2 dollar app, but after it rescues some videos you're going to feel it is well worth it. Your video resolution is untouched by the process. Only the audio gets better.
VideoSoap has to be measured by what it does. Saving that wedding, interview with grandpa, or baby video may be worth a lot more than the cost of this app.
Recommended.
Read our follow-up to this review for A/B video samples and more on the app.
App Store link: VideoSoap – Soundness
– Mel Martin
---
VideoSoap 4.0.2
Resolution and Image Quality
VideoSoap actually improves what audio is there. It isn't a 2 dollar app, but after it rescues some videos you're going to feel it is well worth it.