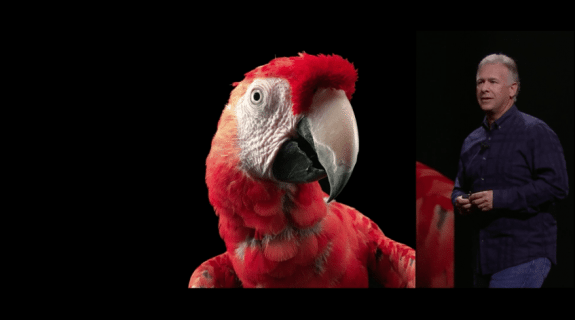 We already love the quality of the iPhone camera, and since the first iPhone camera shipped in 2007, the camera has gotten better and better.
We'll cover the photo related items, since most of the world will concentrate on other products, like the Apple Watch, AppleTV, iPad Pro and more.
At Apple's 'Special Event' today, our favorite fruit company introduced two new iPhones, The iPhone 6s and the 6s Plus.
Changes in the newest phones include new colors and finishes, and new durable glass. Multi-Touch has been improved, and the new phones include what Apple calls 3D Touch. Processors are faster with he new A9 chip, and on-board memory has been increased. This performance increase will have a notable impact on photo performance.
Now, let's get specific on what is of interest to iPhoneographers. Apple is touting a new iSight camera, that is now 12 megapixels, up from the current 8mp. Apple has also added 50% more focus pixels, so it is faster to focus.
Apple says it has also solved some of the issues that appear when more pixels are added. There are structural changes that separate the photo diodes to maintain more accurate color.
The new sensor also allows bigger panoramas, up to 63mp in size. The new iPhones support 4K video.
All these enhancements will push your storage, so even though Apple is still offering a 16mb model, it's just not going to cut it for a lot of photographers, in spite of the iCloud service which lets you upload. You'll want lot's of storage on your iPhone, and also may need to increase your iCloud space subscription. Apple has cut prices for iCloud storage about 50% which will help.
Apple has also increased the performance of the forward facing camera, now increased to 5mp. Apple has also cleverly using the iPhone display as a flash for the front camera.
Finally, the new phones support what Apple calls Live Photos, which add sound and a short snippet of video with the photo. The feature is turned on by default, and the camera captures 1.5 seconds on either side of your still. The Live Photos can be seen on Macs, and iOS device, and even the Apple Watch.
Apple is also working with developers like Facebook, so 3rd party apps can support Live Photo.
The cost of the new phones will be the same as the previous models, starting at $199.00, but in response to phone companies scrapping subsidies, Apple is offering some creative financing and yearly upgrade plans. Memory configuration is the same, with 16, 64 and 128 GB models.
There's no universe shaking news here, but clearly the iPhone cameras are getting better and better. It puts a lot of pressure on companies like Fuji and Canon and Nikon who are already feeling the pinch in their point and shoot business.
There's a lot to like here from Apple for iPhoneographers, and Apple stays comfortably in the lead of mobile photography.
The newest iPhones will be in the stores September 25th, with preorders starting September 12. iOS 9 rolls out September 16.