Home » Reviews
App Review: Color for iPhone: Maybe I Just Don't Get It.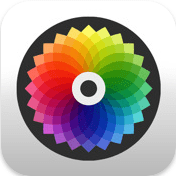 Colorâ"¢ (the app) by Color is a new social photo app in a crowded field of other, established social photo apps which include the behemoth Instagram, up and comer picplz, Path, Burstn, and let's not forget Best Camera.
I feel old. I don't get Colorâ"¢. It's the new social photo app that all the cool kids are going to be using, right? I guess I'm just missing it. Somebody please explain it to me.
Colorâ"¢ is cross-platform — there are iPhone and Android OS versions. It's not being marketed as a photo app, but as a social networking app. It's being compared to both Twitter and Instagram. The app is pretty basic. The interface is attractive, if a bit unconventional. I needed to spent a few minutes with the app familiarizing myself with its features and learning its non-standard icons.
The camera supports hardware flash and front camera on applicable devices, but it has no other features and lacks the filters that Instagram, picplz, Dropico and others have. While it shares square format images to view in app, it saves the original, full-resolution images to your photo roll.
I wasn't able to test out Colorâ"¢'s photo feed. All weekend long, I was never physically close enough to another Colorâ"¢ user to be able to see their photos, and the app doesn't allow users to view regional or global feeds yet.
I'm not impressed with Colorâ"¢.
For one, a social network has to be social right? Colorâ"¢ doesn't have a network per se. You can see photos of anyone within 150 feet of your location. To me, it's a little odd to use a photo app to help you discover a place when you're already there. While I'm not against viewing others shared photos of a location, the concept of Colorâ"¢ — "let's take photos together" — at the same time with a group I have no connection with to me seems a little more voyeuristic than other social apps.
Colorâ"¢ seems like it would work great in HUGE metropolitan areas with a high population and phone density. That's maybe two dozen cities around the globe. Elsewhere, including Dallas/Fort Worth metroplex with a total population of over 6 million, it's pretty spread out and not everyone uses iPhone or Android.
People have to use it. Which means there needs to be content to hold users attention. Which means people have to use it.
Last weekend, I seemed to be the only Colorâ"¢ user in the Fort Worth Arts District using the app. Colorâ"¢ needs a lot more users to be fun and worthwhile. Currently, Colorâ"¢ lacks Instagram's numbers to enable users to feel like their part of a group. Its limitation to local sharing groups — and I mean very local – also limits its usefulness to make the global connections that are part of the appeal with nearly every other social photo app.
Social apps like Foursquare and Gowalla are location-based as well. They also allow local users to share photographs, but both apps have much larger pools of users that enrich the social network experience, as well as more control and tools to grow the user's personal network. While Colorâ"¢ may someday have enough users to be fun, its tools to retain groups and networks seem very limited when compared to all other options.
Color is the company that recently got $41,000,000 in start-up capital… to create an unthrilling app with no visible means of revenue generation. I hope version 2.0 has some new killer features — at least a few million dollars worth.
Despite its flaws, Instagram has the numbers to easily make connections. Even picplz seems to have more users that I can connect with than Colorâ"¢. Why do I need another social photo app again? Especially one where most of the time I'm in a network of one.
Right now, for cross-platform photo social photo sharing, picplz is the better choice. The new Android version benefits from the existing network of 300,000+ iPhone users, plus the filters — the goodies that make the app fun for most users — are much, much better. Instagram really needs to release its long-promised Android version soon.
Colorâ"¢ is a free download. Requirements: Compatible with iPhone, iPod touch, and iPad. Requires iOS 4.0 or later.
=M=
~~~~