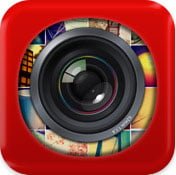 The app formerly known as LomoLomo has been renamed. Again. After a brief stint as LemeLeme HD, the app is now called Leme Camera. This week, anyway.
All cameras and lenses in Leme Camera are now free, which is bound to make some users happy, but will hack others off.
LomoLomo (the Pro version) grew on me and I eventually came to like it. So did a lot of other users as well. — it's still the third most searched for app on LoFi and that's based on only a handful of posts. Although it had its quirks, the photo effects were pretty nice looking and well rendered. The frames were usable and attractive and had good detail. Sharing to the LomoLomo Wall was fairly popular. LomoLomo Pro was a good value — $1 bought all of the lens effects and I could choose from additional cameras as an easy in-app purchase. I did so and bought add ons. I was looking forward to updates.
The LemeLeme apps replaced LomoLomo. Things were renamed. Popular features replaced or removed. Now we have Leme Cam. It still features all the films, cameras and frames from LemeLeme. There are two new cameras, HDR and Light Leak; three new lenses or photo effects, Fantastic Leman, Frozen Blue, and Dark Forest; and two new frames, Flax and Film. Overall, the new additions are good looking effects and frames and would have made a great update to LomoLomo's superior feature set.
That all cameras and lenses in Leme Camera are now free should please users of previous free versions of the app. However, users who bought some of the in-app purchases — especially users who bought the in-app purchases again for LemeLeme — will probably feel ripped off for having to spend a dollar for each additional camera or lens — in some cases, twice.
I think MoMo Travel Consulting, the developer of the apps, appears to be in scramble mode. I don't think they know what to do with this app other than throw everything on the proverbial wall and see what sticks. [a lot of stuff edited here.] That's really too bad as I think LomoLomo was a good app getting better and really finding its stride before the name and feature changes.
This is probably a good make-up gesture for users of LomoLomo Pro who got screwed in the LemeLeme update (and thank you, MoMo Travel Consulting, for the gifts), but for me, it comes off as reactive and poorly timed. Their overall approach to LomoLomo or Leme Camera has been very inconsistent, to put it mildly.
Basically, users of LomoLomo Pro paid a dollar to get the complete lens set and paid more money to unlock each additional camera. Some users paid another dollar to unlock each lens again in LemeLeme HD. And now, less than three weeks later, it's all free.
Two more points…. Many users have been saying that this update is crashtastic — that it won't even launch. I have not experienced this personally, but thought I would pass it along. Also, this is not an update to LomoLomo Pro. This app is a separate download. In a way, that's good in that it allows you to keep both apps on your iPhone.
So, download Leme Camera now. Get the free stuff. Grab it while you can. It'll probably all change in a week or two.
Requirements: Compatible with iPhone, iPod touch (4th generation), iPad 2 Wi-Fi, and iPad 2 Wi-Fi + 3G. Requires iOS 4.0 or later.
=M=
~~~~