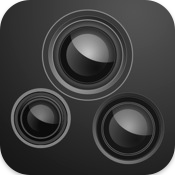 CameraBag is the classic iPhoneography app. One of the very first filter apps to appear in the App Store way back when (remember iPhone OS 2?), it was a staple in many an early iPhoneographer's photo app camera bag.
To celebrate the launch of CameraBag 2 for Mac and PC, Nevercenter's three iPhone photo apps CameraBag, Infinicam, and CameraBag for iPad are FREE for today only — a combined savings of almost $7.00. App Store links are after the jump. Grab these quickly! >>>
CameraBag focuses on emulating styles and processes from some of the most interesting cameras of the past to enhance the mood of an image, and the results are stunning. (
)
Like CameraBag, Infinicam applies high quality effects to photos, but instead of having a set number of pre-defined camera styles, Infinicam offers an endless variety. (
)
CameraBag for iPad takes full advantage of the iPad with a re-imagined interface, increased resolution, and innovative new features. The addictive Vary button offers a new take on the current filter each time it's pressed, for infinite versions of each filter. (
)
These freebies are for today, March 9 only, so grab them now!
=M=
~~~~