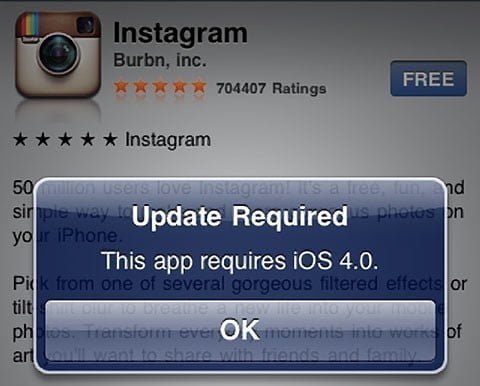 This post will be relevant to maybe a few dozen readers. I'm one of them. The new Instagram 2.5.1 update was recently released. Here's what's new:
– Bug fixes
– New Flickr authentication support
Not mentioned in the App Store description is that with this update, Instagram now requires iOS 4.0 or newer. UPDATE 01.11.13: More recent Instagram updates have changed the minimum iOS requirements to iOS 4.3. This means that owners of iPhone 3G or older won't be able to update, install, or reinstall Instagram on their iPhone.
Through version 2.5.0, Instagram was the highest profile app in a dwindling number of photo apps that still supported iPhone OS 3. The original iPhone 2G won't run any OS newer than 3.1.3. The iPhone 3G will run iOS 4, but many owners reported that their iPhones run better with the older operating system.
Don't panic. Nearly all iPhones and iPads now run iOS 4 or newer. You're okay.
Why would anyone still be using an old iPhone? There's still a lot of functionality in one. If you've upgraded yours, odds are you gave your old device to a family member or a friend. For someone who's "upgrading" from a non-smartphone, even a used iPhone 3G is a huge improvement. There are still plenty of apps — photo and non — that will run on an old iPhone, but that number is dwindling. Most old installed apps will still run fine. Updates will simply stop showing up in your device's App Store app.
I still use my old 2G to shoot. There are a few apps which won't run on the newer operating systems and I can still shoot with Polarize! Although the camera of the 2G is pretty bad by today's standards, I like shooting with it as sort of a "project" camera. It lacks the color and dynamic range of the newer iPhones. It's the digital equivalent of a Holga. It truly is shooting life in lo-fi.
I'm filing this one under "Musings" and not News. I expected to see OS 3 support go away with a bigger update — Instagram 3, now with IMAX! Instead, it went away quietly in a very minor dot-hundredth update. Other apps have dropped support for old iPhones, but this is really one of the last nails….
If you don't have Instagram by now, the App Store link is below. Instagram is still free but for the first time, it's no longer old iPhone-friendly. Requirements: Compatible with iPhone, iPod touch, and iPad. Requires iOS 4.0 4.3 or later.
Life In LoFi keeps a database of which apps support old operating systems. If you have an old iPhone, check out our "iPhone Photo App Resolutions" to see which photo apps will still run on your device. It's also got the maximum resolutions of over 550 photo apps.
=M=
~~~~