I Love NYC – A Series of Perfect Strangers in New York City.
Great photos tell a story. Street photographer (who shoots with an iPhone) Greg Schmigel's have for years been among my favorites as they nearly always freeze a great moment within the frame. His recent series, in particular this one shot in New York City over the summer, takes him out of that familiar element. Instead of letting us watch the story from the outside, Greg lets us meet the characters.
This is Life In LoFi's new weekly feature, Outside The Frame. It's the story of one photograph (or a series) of an iPhoneographer in their own words. It's less of a how-to and more of a why. It's the stories of the iPhoneography we see, told by the artist who created it.
It's a great series by one of iPhoneography's pioneers. Learn about these photos in Greg's own words after the jump. >>>
"Although this was presented online as a series, or a "planned" project, it was honestly just a spur of the moment, spontaneous series of photographs that took place through the course of 1 day in New York City.
"I had been strolling along Bleecker street in SOHO when I encountered an interesting subject waiting outside of a store. Before I knew it, I simply asked if I could photograph him — and that was it. I took a few shots and moved along. My wife and I continued our walk and I honestly didn't really think much of it … until I saw the next subject, almost as if she was waiting for me, and I her. Again, I approached, introduced and shot. A smile and kind handshake followed, then a goodbye.
"As a street photographer, I've always shot for the candid, slice of life style of photograph. But recently (perhaps inspired by my friend and colleague Jim Darling), I've had the desire to interact with some of the characters I meet on the street. Not all of them, though. Don't get me wrong, I'm still focused on candid shooting primarily. But I think I've just had the desire to learn to approach people and introduce myself and interact with them.
"Doing so can be a very intimidating process, if you haven't done it before. Believe me, my first few attempts were probably quite awkward from the other person's view. But then things start to click, you start to know from a distance how it will go — what you will say, and how they will respond (Well, you HOPE that…at least.).
"I never in a million years thought I would approach strangers. I mean, I'm a social guy — I can talk to people on the street. But to approach a person and let them know that YOU want to document them as a stranger is different than a casual conversation. Once you cross that boundary, it's an amazingly liberating feeling. And you'd be presently surprised how many people are happy to accomodate you as an artist. I never would have guessed it."
"My favorites by far are "Seventy Jane" and "Noah".
"As for my apps for this day of shooting, I had been re-trying some Hipstamatic combinations. This particular day I was shooting with the Jane Lens and Freedom 13 film. I found that this combo was nice and bright, with vivid colors and just the right amount of sharpness. Of course, if you follow my work, you know I only post in BW. So, post processing conversions were completed with Snapseed." — Greg Schmigel
..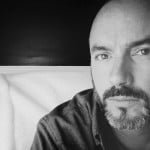 Considered by many to be a pioneer in the movement of mobile photography, Greg Schmigel captures quick, candid glimpses of everyday moments in his photographs – the lives of the people and strangers that he encounters on the street and in public places. Schmigel insists that he is not an iPhoneographer, rather a street photographer who happens to use an iPhone as his primary camera of choice. In 2011, Schmigel founded and launched Mobile Photo Group with 11 of the world's most creative mobile photographers.
Greg Schmigel has spent the majority of his life in and around the Washington, DC, Metropolitan area.
Website: JustWhatISee.com
Flickr: Greg Schmigel
Twitter: @justwhatisee
Instagram: @publicview

~~~~