Handy Photo is the amazing new photo app from the developers of TouchRetouch and AntiCrop. It lets you perform image editing, color moves, cloning, basic retouching, advanced retouching, and about the most advanced clip and paste I've ever seen on any platform. It's got a lot of tools found in desktop photo programs costing hundreds of dollars more.
I've got a few copies of Handy Photo to give away this week. Keep reading to find out how you can win one. >>>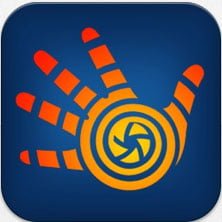 You can read my hands-on review of Handy Photo here. It's one of a handful of apps that I've given a five-star rating to (actually, there are fewer than five).
It's a very impressive piece of software that does a lot of heavy lifting on an iPhone. The magic Move tool is especially impressive. It combines a smart lasso that does a good job of finding the the edge of your object with minimal touch-ups with a content-aware fill that automagically rebuilds the space behind. Content-aware manipulations are processor-intensive and Handy Photo handles all of them with ease on my iPhone 5. some image will yield better results than others, but Handy Photo is the best tool for making these types of content aware edits that I've found. I absolutely love the app.
Handy Photo is only $1.99. I think it's a steal at that price. It's a Universal app designed for both iPhone and iPad. Requirements: Compatible with iPhone, iPod touch, and iPad. Requires iOS 4.3 or later. This app is optimized for iPhone 5.
Handy Photo Giveaway
What do you say we give away some promo codes…. I've got several promo codes for Handy Photo for iOS only to give away this week. To be eligible to win a copy, simply enter the giveaway below. If you follow us on Facebook and Twitter, you'll have additional chances for a free copy.
Cut-off time to enter is 11:59 PM Eastern Daylight time, Saturday, March 23, 2013. Winners will be determined by Random.org. One code per reader, please.
Winners will be notified by email, Facebook message or Twitter direct message — be sure to check your spam filter. If you enter, be sure your email info is correct or your code will go to someone else. Your email address is used for contest entry and for contacting the winning entrants only. We will not use or sell your email address for any other purpose.
(If you're having trouble viewing the giveaway widget on a mobile device, try viewing this page in landscape mode on your iPhone.)
=M=
~~~~
Many thanks to developer Maksym Davydov from ADVA Soft for the promo codes for this giveaway.