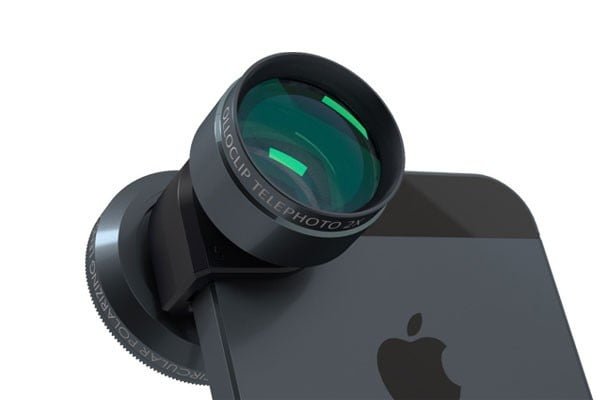 The new olloclip Telephoto + Circular Polarizing Lens for iPhone has been announced and is available for pre-order. It's the follow up to the excellent original olloclip 3-in-1 Lens kit. This new accessory adds a 2X telephoto lens and a circular polarizing filter to your iPhone all in the convenient quick-to-attach olloclip form factor.
For a 2X telephoto, is it worth it? Find out what I think in my exclusive hands-on review from an iPhoneographer's perspective. >>>
When the original Olloclip 3-in-One Lens was introduced a couple of years ago, it quickly became an insanely popular iPhone photo accessory. In a market filled with clunky magnet stick-on mounts and blurry plastic lenses, the original olloclip was and still is pretty awesome. The original olloclip is a fairly low-cost small, pocket-sized attachment that adds a wide-angle lens, a macro lens and a real fisheye lens to your iPhone. All three lenses are glass optics housed in an aluminum casing. If you don't have one, it's a fun accessory to have. You can read my review of the olloclip 3-in-1 lens kit here.
The new olloclip 2X Telephoto + doesn't span the gamut the way the original olloclip does, but its lens is more practical than you would think. The new olloclip is made of coated, multi-element, precision ground glass in an aluminum housing, just like its predecessor. On the back is a circular polarizing filter that can be used with the tele on its own or with the wide-angle lens from the original olloclip.
Like its predecessor, the olloclip 2X Tele fits snugly over the corner of your iPhone. There are no light leaks and because it sits so close to the lens cover, there's no vignetting either.
2X telephoto lens
Essentially, a 2X telephoto is a fixed lens that creates the illusion that your camera is half the distance between you and your subject. It's different than actually moving up close to your subject in many important ways — there's a narrower field of view and a flatter depth of field. But, basically, it helps you to capture more close-in details. That's the really basic short version.
The olloclip 2X Tele's glass optics allow it to have sharper focus, better color and greater contrast than many other lenses on the market. The glass lens pretty much eliminates the murky, blurry look that you see in plastic telephoto lenses for iPhone.
Images captured with the lens appear, of course, shot closer in. Colors were bright and natural. Contrast was good. The lens works well with the iPhone camera's auto-focus. It was very easy for me to lock focus and exposure, not only using the native Camera app, but third-party apps as well. In a broad range of lighting scenarios, focus and exposure were quick to lock. I like that I don't have to worry about missing a shot with this lens. I like that a lot.
In nearly every way, the image quality of this telephoto lens is visibly sharper than a comparable 2X setting using digital zoom. In the sweet spot, there's no added noise, no blur. The image retains its focus and is very sharp for a mobile phone camera. The olloclip telephoto lens is visibly sharper and has almost none of the operations found in the magnetic mount 2X lenses found elsewhere. Almost….
This telephoto lens has a very large field of focus, but there is a hotspot and the lens starts to lose focus near the edges of the frame. See my sample image below for the sweet spot in my olloclip telephoto lens. There is a softness near the outside of the image. Some iPhoneographers may not like that the lens doesn't completely hold focus edge to edge.
However, the overall image is still visibly sharper than any other iPhone telephoto lens I've tested. I have not tested the Schneider optics 2X telephoto lens, but I understand that it, too, has a soft focus around the edges of the frame. Despite this blur, this lens showed none of the chromatic aberrations produced by many of the other iPhone telephoto lenses.
Although it's not really that powerful, a 2X telephoto lens is better than nothing. What I really like about the olloclip 2X telephoto lens — and this is where it gets really, really useful — is that it takes some of the work away from the iPhone's digital zoom, letting it resample images less and work less harder. This lens makes the iPhone's digital zoom a heluva lot more useful, multiplying its native field of view by a factor of two. When used in tandem with the iPhone's digital zoom, my images were sharper and less noisy then using the iPhone zoom on its own. Close inspection of test images show that photos taken with the olloclip have none of the resampling artifacts of a digital zoom. Look at the angled lines in the CashAmerica images above for a great example. The Nolan Ryan images below are also a great example of real-world use. The olloclip is a huge improvement over any digital zoom and really helped my images to retain detail, especially at 2X-4X equivalents.
Also, I found that as I used the digital zoom along with the lens, the blurriness on the frame edges became less and less of a factor.
Of course, it's not Leica or DSLR quality, but for an mobile phone accessory, the results are surprisingly good. It's a very practical, pocket-sized solution that may mean the difference between getting a usable photo or getting a blurry frame full of pixelization, artifacts, and noise.
Polarizing filter
On the other side of the olloclip is a circular polarizing filter. It's basically two pieces of glass that, when rotated, help to filter the light coming through the lens. By adjusting it, you can capture colors that are deep and rich. It's also great for filtering out glare from shiny objects and water.
This polarizing filter intensifies the colors in camera, Allowing you to capture greater contrast and more vibrant colors without apping.
This is one of the best polarizing filters available for iPhone,  period. The filters are made of optical quality glass instead of plastic. They're encased in a smooth operating aluminum housing. Because it's glass, the filter itself did not degrade the quality of the image.
You can use the polarizing filter alone. It also clips right onto the telephoto lens. There's a plastic adapter that lets you mount it to the wide-angle lens of the original olloclip. Adjusting this filter is very smooth and easy, much smoother than some of the other options available.
The filter itself is awesome but I found the implementation of it to be clunky and probably the least satisfying of any olloclip product. Other than a microfiber sack, it comes with no case or lens cap. For me, the filter was prone to fingerprints while trying to attach it to a lens. While the plastic adapter stores safely on the filter when not in use, I can see potential for it to become easily lost. As I received a review unit, packaging may change when this is released.
These were by no means deal breakers for me. I rarely shoot with a polarizing filter — usually for special projects where I'll have time and the ability to be mindful of my gear — but it is something to be aware of.
For some, this olloclip may be a little pricey. But I use my digital zoom on my phone often enough to where the benefits of this lens make it a very welcome addition to my iPhone's camera bag. Despite a few flaws, I'm really happy with mine. It has a very large usable sweet spot and almost none of the operations and flaws found in many other iPhone telephoto lenses.
When I shoot, I try to get in as close as I can. But there are many times when you just can't — sporting events, concerts, edge of a mountain, etc. That's when a lens with a longer focal length (or equivalent) comes in very handy.
The olloclip 2X telephoto lens has glass optics, a good usable focal area, and creates bright, clear photographs. On its own, it'll get you a good, tight photograph. When used with your iPhone's digital zoom, it'll help get you even closer. Like its older sibling it's small and fits easily into my pocket. It's already quickly become one of my most used iPhone accessories and can be the difference between capturing a memory or just capturing pixels.
The new olloclip Telephoto + Circular Polarizing Lens will be available for both iPhone 5 and 4/4S. It will retail for $99.99 and is available for preorder now on the olloclip website. It should be shipping before the end of the month.
The original olloclip 3-in-One Lens which includes fisheye, wide-angle, and macro lenses can be purchased for about $70 or less
.
=M=
---
Gallery
Click the sample images below to enlarge for detail.
~~~~