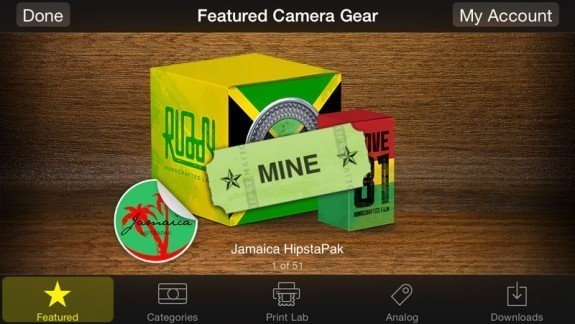 A while back in the dark days of the app's marketing, Hipstamatic promised a new HipstaPak every month. Good or meh, they've kept good on that promise.
Hipstamatic's new pak for May is the Jamaica HipstaPak. It's available in-app now and will run you about a buck. I think it's one of the better ones recently. I've got more info and samples after the jump.
The new Jamaica HipstaPak features a lens and film only. The new Ruddy lens is designed for Brooklyn-based photographer Ruddy Roye and adds really vibrant, deep saturation and contrast to the image.
The new Love 81 film adds great texture by way of some really analog-looking grain and subtle scruffing and damage to the image. The black border has rough, organic details around the edges like a sloppy print. Check out the gallery below:
I really like both the lens and film. Both are more interesting than many of the app's recent paks. The lens has a really nice tonal range and really pushes the color. The texture of the new film is one of the more realistic print films they've released in a  while. The Ruddy lens also looks great with any of Hipstamatic's high-contrast black & white films. This will be a fun pak to experiment with.
The new Jamaica HipstaPak is available now in-app for $0.99. To see samples of photographer Ruddy Roye's work, check out his website and follow the gallery pages in the menu.
Hipstamatic is $1.99 in the App Store.
App Store link: Hipstamatic – Hipstamatic, LLC
=M=