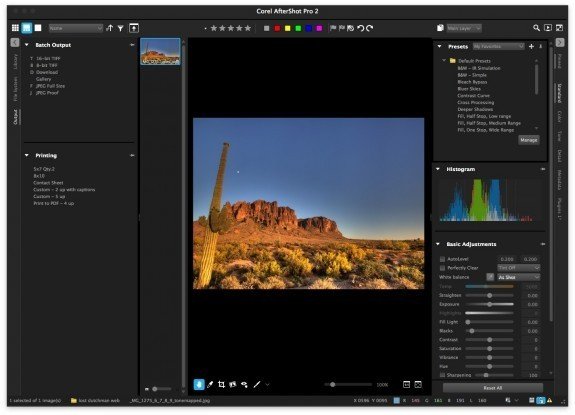 Corel has just released the latest version of AfterShot Pro, a Lightroom/Photoshop competitor with excellent performance and a low price. The program is being offered for a very limited time of $49.99, a far cry from the cost of a Photoshop Creative Cloud subscription or buying Lightroom outright.
Of course, none of this news directly relates to iOS photography, but we know most of you do final editing on Macs or PCs, and have a strong interest in desktop class tools for eating and cataloging.
Adobe pretty much controls the market, but Corel used to be a viable contender with Corel Draw and Corel Paint along with many other products. Their Word Perfect software was also quite popular until Microsoft killed it in the marketplace with Word.
So what does AfterShot Pro offer? First, no subscription. Buy it.. don't keep buying it with a monthly fee. If you don't have Photoshop, it has robust features that probably more closely parallels Lightroom than Photoshop, and some Photoshop users like AfterShot Pro to use in conjunction with Photoshop.
AfterShot Pro has excellent tools for dealing with RAW files, with very up to date camera import support. The company claims import speeds are very fast, faster than Photoshop imports and Apple Photo imports. I didn't put a stopwatch to the times, but AfterShot Pro is faster than those two applications.
As a cataloging and batch import/export program, AfterShot Pro is feature rich, and if you still have Photoshop you can designate any version of PS as an external editor.
AfterShot Pro has excellent editing tools. There are some one-button quick options, like 'make skies bluer' and 'deeper shadows', and there are also sliders for just about every option you can think of. There are tools for dealing with red eye, healing and cloning tools, selective editing by region, cropping and straightening tools etc. Pretty much what you would expect in a mature image editor.
Cataloging is powerful too, but the on-screen setup is different than the standards used by Adobe Lightroom. AfterShot will seem uncomfortable to Lightroom users, but it's certainly a straightforward way to manage large catalogs of photos. The ability to rate the photos, color code them, and add comments is right on the main screen.
Export options abound, to almost any format and resolution, and, as mentioned, you can have Photoshop or any other editor set to receive your files with the touch of one button.
The app can display thumbnails of your current catalog on screen, making it easy to navigate to anything that's recent.
AfterShot Pro is a very appealing application that has a straightforward workflow, even if you decide to finish things up in an external editor. The price is very reasonable, it doesn't require a subscription, and it is going to satisfy users who aren't fully invested in the Adobe Creative Cloud world.
On the other hand, Corel has been bought and sold a few times, and has never had long sustained successes in the market. They always invent something great, and then Adobe or Microsoft knock them over. Hopefully, AfterShot Pro will be a great success.
It's not an exact match for Adobe products. I don't see any obvious HDR capabilities, (HDR is there, but buried in the help file. A search for it using "HDR" didn't turn it up.), and new features like Haze/DeHaze from Adobe are absent. Also, it doesn't have built-in lens correction, but it could be added as a plug-in.
Still, I think AfterShot Pro is worthy of a serious look. The features are there, the RAW file handling is excellent, and it's not a big investment, especially at the introductory prices. If you want to go beyond what iOS editors offer, AfterShot Pro is offered in Mac, Windows and Linux. Visit AfterShotPro.com and enter coupon code ASP23 at the checkout to get 50% off the original purchase or upgrade price of Aftershot Pro & AfterShot until November 6, 2015.