When I'm traveling and taking photos both on my iPhone and DSLR I have a problem. That's how to safely back up what I've shot, without having to take a laptop with me.
My MacBook Air is pretty light, but I only have a 128 GB hard drive, and that's not enough room to download lot's of images. I also want to keep my iPhone photos downloaded, but when I'm shooting landscapes in the wild cell service is not always available.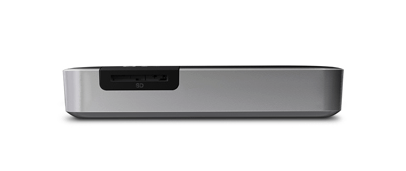 One really nice solution is the Western Digital My Passport Wireless hard drive. I can easily transfer photos from my DSLR with the Passport built in SD slot. There is also an iOS app called WD My Cloud that lets you download photos from your iPhone and manages all the other functions of the Passport. The iPhone download to the Passport is wireless. The app also supports AirPlay, so you can view the contents on your drive with any supported AirPlay device like an AppleTV.
The Passport has a rechargeable battery, so you can download your DSLR photos when driving to your next location.
As a bonus, the Passport allows you to stream photos, movies and music to connected TV's and media players that are network capable. The passport can also serve as a WiFi hub to share an internet connection with multiple devices.
One nice thing about the Passport Wireless is that it can pass through an
internet connection. So if you are connected to the Passport's WiFi network, you can still get emails or anything else from the internet because you can set the Passport to connect and pass through the internet to another WiFi network.
The drive can remain private, so your content is password protected, and it creates it's own WiFi network, which is also secure from prying eyes.
The Passport also sports a UBB 3.0 port for transferring data to a computer or laptop when you get home.
I tried the 1 TB version, which is available online for a reasonable price. I paid $145.00. The drive is reformatted ExFAT so it works on Windows and Macs. It includes a USB cable, which connects to a plug-in power brick, so the device can be connected from AC, a car adapter, or a computer.
Using the Passport Wireless Drive
The best place to start is downloading the free iOS app. That gives you access to the drive when it's up and running. You use the app to set up its wireless network and security. If you have a DSLR with an SD card, things get really simple. Insert the card in the Passport, and your photos download to the drive. While it's downloading, a status light blinks on the drive. When it's finished, the flashing stops. It's not super speedy, and I tend to shoot 5 exposure HDR photos with my Canon 6D, so it's better to do this at the end of the day, not after each stop. The downloads can take place while the drive is on battery, and the device has a 20 hour standby time, and can download for about 6 hours straight. Those specifications match my experience. Note that the Passport can be set up to erase your SD card after a download. That strikes me as dangerous, unless you need the space. Automatic erasures of anything should be avoided. Do it in your camera if the need arises.
Downloading can be two ways with the iPhone. From the iPhone to the Passport, or media from the passport to your iPhone. For downloading from the iPhone, it's rather easy. Select the photos, and choose (or name) a folder on your drive and send them along.
I tried playing media from the Passport to my iPhone and iPad and that worked fine with a couple of ripped movies. Multiple people can view multiple videos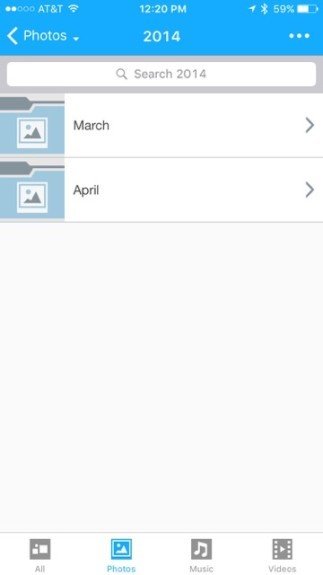 at the same time by signing in to the Passport's WiFi network. It's nice for traveling. I loaded the media up by plugging the drive into my desktop Mac to make the transfer.
WiFi range is quite good. I had no trouble accessing the Passport from the opposite end of my house.
Negatives
There are a few. First, the Passport end of the USB cable is a USB 3 Micro Type B plug on the drive end. They aren't that common, so if you lose it, there no quick run to a nearby Best Buy for a cable.
Even without the cable, you can transfer off the drive wirelessly, but it's not super speedy. Even plugging an SD card in is not a download that I would call fast. In several tests I averaged 1 GB in just under 3 minutes. The speed of your SD card will help there. The faster ones can do better than my results.
Setup is not completely intuitive. If you are heading out for a trip, be sure to get some experience with the software before you go, you don't want to be struggling with it on the road. I'm not saying it is hard to use the iOS app, but it's best to understand it in a no-pressure situation. The drive has the manual o it, as well as some helpful videos. One other item to mention. You can preview anything on the drive in the Passport app EXCEPT raw files. It's just not supported. However, the app supports Apple's 'open in' feature, so if you have an app that reads Raw files, you can see them, but it's a bit more cumbersome than seeing them in the Passport app. I'm hoping they will support Raw viewing, but don't count on that. Also, an image imported to your iPhone can't directly be saved to your camera roll. Again, it's the 'open in' command to the rescue, and then it can be saved as normal from that app.
Summing up
I think the Passport Wireless is a great little device. It gives me piece of mind when I travel, and especially for when I want to backup iPhone photos with no internet access. Directly downloading an SD card to the device relieves all sorts of anxiety. The Passport, as noted, can erase an SD card (not a good idea), and if you insert the card multiple times it won't re-downlaod what you already have on the drive.
Things like sharing movies and other media via WiFi is a bonus, but not the main point of the device.
1 TB of storage is really a lot, even for a constant HDR photographer like myself.
Recommended.