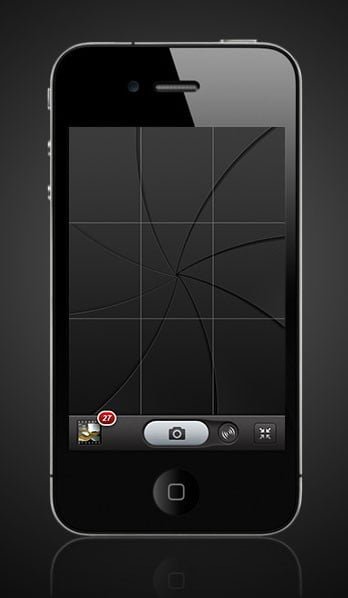 .
I love my new iPhone 4. The device itself is fast and solid. Upgrading from my old 2G was amazingly easy and nearly all of my apps play nice with the new phone. However, I've been experiencing an issue when using some non-Apple camera apps on the iPhone 4. The screen locks up on the black closed shutter if the app uses the built-in flash. See the above image for the "Shutter Bug".
The image will still save to my camera roll or the app's lightbox, but I get locked out of the screen and have to back out of the app, get back to the home screen, and reopen the app to clear the black screen. If the app has other options showing, such as a lightbox in the viewfinder (as in Camera+), sometimes selecting it will also clear up the screen.
I believe this is only an issue between the apps and the iPhone 4 hardware and not with the iOS 4 itself.
So far, I'm experiencing this with GorillaCam, Hipstamatic, Camera Genius, Camera+, ProCamera and a few others. The problem seems to be common in camera replacement apps and less so in photo apps that merely access the iPhone's camera. Most photo apps that I tested today did not experience this Shutter Bug.
Deleting and reinstalling the apps fresh did not fix the problem. My OS was a brand new non-hackabillied install fresh from the Apple Store, so I really hope a wipe and restore isn't what I need to fix the issue. So far, this has been the biggest issue I've had with the new phone. I'll keep you posted as I find out more.
UPDATE: Developer Jens Daemgen, who created the ProCamera apps which are affected by this bug, is aware of the issue. He emailed me this morning to explain a little about the problem.
"The problems seems to be located in the UIImagePicker which is still used by all camera apps which are compatible with OS 3.1.x. We have tested ProCamera thoroughly on iOS4 with an iPhone 3GS. Unfortunately, no developer gets to test new devices before they come out. (emphasis added)

"I expect there will be an OS update which fixes this problem for everyone. If not, there will be updates for the camera apps soon.
We have already started developing an iOS4 version of ProCamera which will utilize the new capabilities the OS provides.

"…But, compared to what happened to camera apps last summer, this time it's way less catastrophic in my eyes 😉
This all is fixable in one or the other way."
If you have a new iPhone 4, have you had similar experiences with these or other apps? Let us know in the comments below.
=M=
~~~~