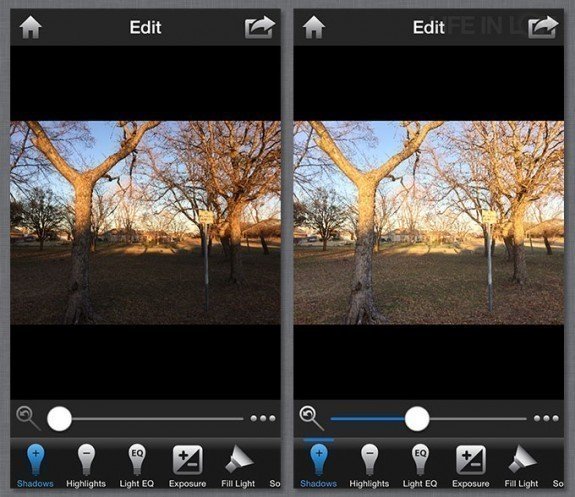 Instaflash Pro is our iPhone photo App of the Day, and it's FREE again today, May 5, in the App Store. That's a savings of $4.99. If you missed it before, I just saved you a Lincoln.
Read on for more and for the App Store link.
Instaflash Pro gets discounted every few weeks, but that does not diminish the quality or usefulness of this great utility iPhone photo app. Even with the improved cameras of the newer iPhones, Instaflash Pro (along with Perfectly Clear and Noiseware) are my go-to tools for image scrubbing when needed.
Photoshop power users know how fast and how well its Shadows/Highlights tool can be to enhance and bring out the details of dark areas of an image without effecting the properly exposed bits. Instaflash brings this tool as well as a ton of other fast and easy power user image fixes to iPhone. I use Instaflash often to quickly restore color, vibrance, and detail to shadows and 3/4 tones to an image, just like Photoshop. While not as effective as Noiseware, the Denoise tool in the app works by using luminance, a way to remove image noise while holding detail. For this deal, this is the full version of Instaflash Pro, not the standard version with extra in-app purchases. All tools are unlocked.
Built on the same technology that drives the much more costly ACDSee Photoshop plugin, Instaflash Pro definitely belongs in an iPhoneographer's toolbox. I recommend it at five bucks. For free, this one's a no-brainer.
The price will go back up in a few hours, so grab it now while it's free.
App Store link: Instaflash Pro – Anlei Technology Inc.
Please share this post on Facebook and Twitter today so your friends can save some cash, too.
---
Life In LoFi's App of the Day is a new-ish feature where we scour the Photo & Video section of the App Store to discover great deals on the best photo apps and hidden gems — one a day when we find a good one. Grab them fast because these deals don't last long and the price can go up at any time.