Home » Archive by Author
Articles by Marty Yawnick
Marty is a self-employed graphic designer in the Fort Worth/Dallas Metroplex. He is an avid Rangers baseball, Chicago Cubs, Packers and Highbury Arsenal fan. In addition to capturing random moments with whatever camera is close by (usually his iPhone), his other interests include coffee, film, music, and traveling in seats 5E and 5F with his fiancé.
Cortex Camera is our App of the Day for March 20. It's on sale right now for only $0.99, down a couple bucks from its regular price of $2.99.
Camera+ was just updated. It's now the only third-party camera that you can access from your lock screen. That's really slick. We've got more info, including how to install the widget.
ProCam 2 has just been updated. There are a few new features and big changes for users who've purchased the in-app filter presets.
Deal Alert! Instaflash Pro is our iPhone photo App of the Day, and right now it's FREE today, March 17 only, in the App Store. That's a savings of $4.99 USD. That's cash in your pocket.
ProCamera 8 + HDR is Life In LoFi's App of the Day. Right now, you can get ProCamera 8 for just $2.99 for a very limited time. That's $2 off the regular base price of $4.99.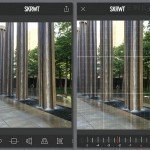 Life In LoFi's App of the Day is the excellent perspective correction tool SKRWT. Right now, SKRWT is discounted to just $0.99 for a very limited time. That's 50% off.
Life In LoFi's App of the Day is brand new photo editor Enlight. Right now, Enlight is introductory-priced at $3.99 for a limited time. That's half off.
We review Noiseware for iOS and show you how to dramatically reduce digital noise on your iPhone or iPad.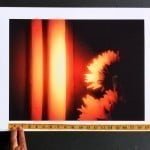 The bottom line is your treasured photos aren't stuck in your iPhone or online. They can be printed at pretty large sizes, and the result will be pleasing.
Popular iPhone and Android photo app VSCO Cam® gets a new update. We've got info and a short tutorial on the new Copy + Paste feature.
The developers of SKWRT have prepared a fairly short tutorial video on how to fix perspective distortion, as well as lens distortions created by olloclip, GoPro, and other third-party lenses.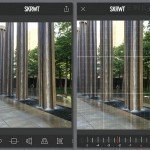 SKRWT is a great utility that corrects perspective and lens distortions in iPhone photos. It should be a part of every iPhoneographer's toolbox.

Join my Circle on Google+
Plugin by Social Author Bio