Home » Archive by Tags
Articles tagged with: Texas
"Studio b. is excited to bring the Light Impressions installation to the Russell Collection's 10-Year Anniversary Celebration. Our installation features 40 of the movers and shakers in the newest art movement, iPhoneography." -Colleen Duffley, Studio b.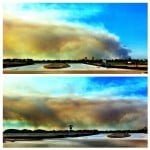 Users of Instagram have been posting some very striking images of the Texas fires under the tags #centraltxfires, #txfires and #bastrop. For some striking photos of the fires, search out those hashtags.
If you're in or around Austin, Texas on Friday, July 22, iPhoneographers Jack Hollingsworth and Alex Suarez are hosting the first of many planned iPhone Photo Walks.