Home » Archive by Tags
Articles tagged with: tripod
The Glif is an inexpensive, well-designed gadget. It works great as a tripod mount in normal situations and has the added bonus of being a pretty cool iPhone stand as well.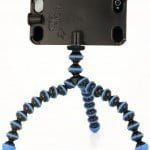 I don't know how I missed this back in February, but here's a pretty cool piece of gear — the SnapMountâ"¢ Tripod Mount for iPhone 4. SnapMountâ"¢ is an easy to use, versatile tripod mount for iPhone 4. It has some cool features designed in, including easy access to all ports and controls, two threaded mounts for landscape or portrait mounting, and easy snap-on/snap-off use.
Now that you've shot your image, how are you going to process it? There are some great image editing apps available and best of all, the price is free!